Egypt policeman killed in operation to arrest militants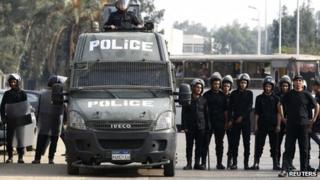 An Egyptian police officer has been shot dead while trying to arrest suspects wanted over the killing of a security official, the interior ministry said.
Capt Ahmed Samir Mahmoud was killed during an early-morning operation in a town north of Cairo, the ministry said.
His team was chasing militants wanted over the killing of Mohamed Mabruk.
Mr Mabruk, an interior ministry official, was reportedly part of the crackdown on the Muslim Brotherhood.
Thousands of members of the Islamist movement have been detained since the army ousted President Mohammed Morsi in July.
On Thursday a court jailed 38 students from Cairo's al-Azhar university for taking part in a violent protest in October.
The ruling came a day after a student was shot dead in clashes between security forces and supporters of Mr Morsi at al-Azhar, Egypt's top Islamic institution.
Sinai tensions
Mr Mabruk, a lieutenant colonel in the interior ministry who was apparently responsible for monitoring Brotherhood members, was killed by gunmen outside his home in the eastern Cairo district of Nasr City on Sunday.
A Sinai-based Islamist militant group, Ansar Beit al-Maqdis, said it was behind the attack.
Capt Mahmoud was shot while trying to catch Mr Mabruk's killers in the province of Qulubiya on Thursday, according to the interior ministry.
No group has said it carried out the latest killing.
Attacks on security forces in the Sinai and elsewhere in Egypt have risen sharply since Mr Morsi was ousted.
On Wednesday, 11 Egyptian military personnel were killed and dozens more were injured when a convoy of buses hit a roadside bomb near the North Sinai city of el-Arish.
Hundreds of people have died since security forces cleared two sit-ins by people demanding Mr Morsi's reinstatement in August.