Fresh attacks across Iraq kill leave nine dead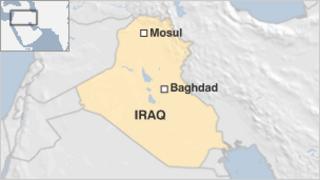 At least nine people have been killed in a series of bombings and shootings across Iraq, officials say.
Five died when bombs exploded at a market in a south-eastern suburb of Baghdad and beside pro-government Sunni militiamen in Tarmiya, to the north.
Militants also attacked a police station and an army patrol near the northern city of Mosul, leaving two policemen and two soldiers dead.
Sectarian violence has surged across the country in recent months.
The UN says 979 people - including 158 police and 127 military personnel - were killed in violent attacks in October. More than 6,500 civilians have died since January, the highest annual toll since 2008.
Executions
In the past few days, more than 100 people have been killed. In the biggest attack on Thursday, 25 died when a car bomb exploded at a busy market in the north-eastern town of Sadiya.
The Iraqi government has blamed extremist Sunni militants linked to al-Qaeda for the violence, which has mainly targeted Shia civilians.
The unrest was sparked by an army raid on a Sunni Arab anti-government protest camp in April. The protesters had called for the resignation of Shia Prime Minister Nouri al-Maliki and denounced the authorities for allegedly targeting the minority Sunni community.
In a separate development, the justice ministry has announced that seven people convicted of terrorism-related charges were hanged this week.
One of those executed was a Libyan national charged with carrying out two car bombings, a ministry statement said.
The deaths brings the number of people executed in Iraq this year to more than 150, according to the AFP news agency.