Secret talks set stage for Iran nuclear deal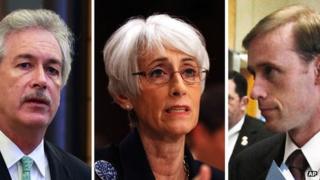 The agreement over Iran's nuclear programme was made possible by months of secret negotiations between US and Iranian officials, it has emerged.
They were held at the same time as official negotiations involving five other world powers. The White House asked journalists not to report on the talks amid fear they would be derailed.
At least five secret meetings have taken place since March, reports say.
The US officials involved took various precautions to preserve secrecy.
In March, a small group of US officials led by Deputy Secretary of State William Burns and Jake Sullivan, US Vice-President Joe Biden's top foreign policy adviser, boarded a military plane for Oman to meet Iranian counterparts, according to the Associated Press.
It was at this first high-level gathering at a secure location in the Omani capital, Muscat, that the Obama administration began laying the groundwork for the nuclear deal.
Initially, the goal on the US side was to see if the US and Iran could successfully arrange a process for continued bilateral talks, according to US officials.
The Oman channel itself had been nurtured by US Secretary of State John Kerry, who, as chairman of the US Senate Foreign Relations Committee before he took over as Secretary of State, made an unannounced trip to the Gulf state to meet Omani officials, the Reuters news agency reports.
After Mr Kerry replaced Hillary Clinton as the top US diplomat on 1 February, it was decided the Oman channel would continue to help feed into multilateral talks led by the EU's Catherine Ashton on behalf of the US, UK, Russia, China, France as well as Germany, the so-called P5+1 group of nations, Reuters reports.
Mr Kerry visited Oman himself in May for talks largely focused on ensuring the viability of the Omani channel ahead of Iran's election in June.
The election of Iran's new president, the relative moderate Hassan Rouhani, in June gave new impetus to the US effort, US officials said.
Two secret meetings were organised immediately after Mr Rouhani took office in August, with the specific goal of advancing the stalled nuclear talks.
It was not till 30 September that Mr Obama informed Israeli Prime Minister Benjamin Netanyahu of the existence of the talks - just three days after holding an historic phone call with Mr Rouhani, the AP reports.
Another couple of meetings took place in October, with chief US nuclear negotiator Wendy Sherman joining the last meeting.
But it was not until the final meeting at the weekend that the two sides ultimately agreed on the outline of the pact signed in the early hours of Sunday, three senior administration officials told the AP.