Militants and soldiers killed in east Yemen clashes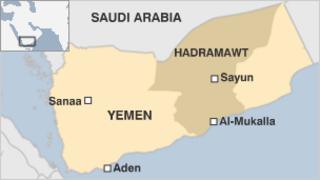 Six suspected al-Qaeda militants and three soldiers have been killed in clashes in eastern Yemen, the country's defence ministry has said.
The militants attacked an army checkpoint at the western entrance to the town of Sayun, the second largest town in the province of Hadramawt.
Al-Qaeda in the Arabian Peninsula (AQAP) has stepped up attacks on security forces in the region.
On Sunday, an army officer and his son were shot dead by gunmen in Hadramawt.
Col Ahmed al-Merfidi was driving a car with his son Yasser when assailants riding a motorbike opened fire at them, officials said.
Three policemen were also killed in Sayun on 24 November.
Last year, a major army offensive forced AQAP and its allies out of towns in southern Yemen that they seized during the political chaos triggered by the uprising against former President Ali Abdullah Saleh.
Since then, the militants have regrouped and launched dozens of attacks on security forces and government officials, killing hundreds of people.
Landmine treaty 'breach'
In a separate development on Monday, Human Rights Watch called for an investigation into allegations that Yemeni forces laid thousands of anti-personnel landmines in 2011, in contravention of the Mine Ban Treaty.
The US-based group said a November 2013 public communique from the prime minister's office admitted that a "violation" of the treaty occurred in 2011 during the uprising against Mr Saleh.
It would be the first admitted use of anti-personnel mines by any of the 161 treaty members since the ban went into effect in 1999.
The admission followed reports that the Republican Guard - which was led at the time by the former president's son - had laid mines at Bani Jarmooz, near the capital Sanaa.
"This is the most serious breach of the Mine Ban Treaty since it came into existence 14 years ago," said Steve Goose, HRW's arms director.
"Yemen shouldn't waste a minute in protecting people in the area by removing the landmines and making sure those responsible are held accountable."