American becomes unlikely new star on Arabs Got Talent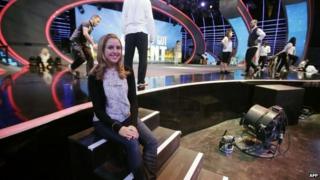 When singing songs by Umm Kalthoum, the legendary Egyptian diva, Jennifer Grout can easily deceive even the best-trained ears.
She's an American with no Arab roots, who speaks only a few words of Arabic, and yet her singing barely betrays her identity.
To make the challenge even harder, Jennifer has also performed on stage while playing the oud, a stringed instrument similar to the lute.
Grout masters the vocals and the lyrics of sophisticated Arabic songs with such ease that she has made it to the finals of Arabs Got Talent in Beirut on Saturday.
The show is an adaptation of an international format that originated in the UK.
The producers of the Arab version, MBC, claim that more than 100 million viewers watch each episode. However, these figures cannot be confirmed independently.
Hostility
Grout, a 23-year-old from Cambridge, Massachusetts, whose parents are both musicians, was introduced to Arabic music in 2010 while studying music at McGill University in Montreal, Canada.
"I speak a little bit of Moroccan dialect because I lived in Morocco for about a year, but I still cannot communicate with people in Arabic in Lebanon. Eventually I'd like to work on that," she says.
"I use the internet to get the translation of the songs' lyrics. Otherwise I ask my Arab friends to help me."
But this hasn't stopped Jennifer giving convincing and captivating performances.
And it hasn't been an easy ride for her.
Many in the Arab world have questioned whether she is really a total stranger to Arabic, while others have complained about her participation in a programme that is supposed to showcase Arab talent.
"I really like the idea that she sings in Arabic quite well - it's heart-warming. But I don't want her to win", says Joelle, who has been watching the show for third consecutive series.
"After all, the show is called Arabs Got Talent and it should be won by an Arab".
Classical style
The producers shrug off the critics.
"She's really talented. We are proud as Arabs that someone from the United States is singing in Arabic," says Lara Nassif, an executive producer at MBC.
That may explain the large number of votes Grout has received from Arab audiences across the region, which have allowed her to advance to the final.
Another reason might be the type of music she performs.
"A lot of old Arabic songs, a lot of the popular songs are still performed, but not in the same way. They aren't performed in the classical style which is much more beautiful and much more important to music", says Grout.
"By performing them the way I do, maybe, just maybe, I can open up a new audience and even open up young Arabs to this kind of music."
Ms Nassif also believes that has been an important factor in Grout's success.
"Jennifer has given Arabs a sense of renewed pride in their heritage, history and culture," she says. "She's not Arab but she's singing something that Arabs can identify with. Usually, it's just the opposite."
Grout may not win in the final on Saturday but she's already become a sensation.
Whether she can capitalise on that and become more than a curious eccentricity in the Arab world remains to be seen.