Iran nuclear talks with world powers make 'slow progress'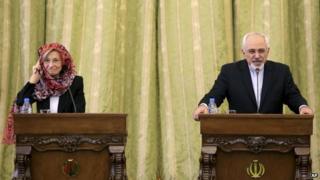 Iran's foreign minister says talks with world powers on the implementation of an accord on the country's nuclear programme are making "slow progress".
Mohammad Javad Zarif was speaking alongside his Italian counterpart Emma Bonino, who has been visiting Tehran.
She told the BBC ties were "improving" but the path ahead was "difficult".
Last month, Iran and six world powers agreed a deal to freeze Iran's nuclear programme in return for easing sanctions.
"The situation is very cautious, from both sides. This is the legacy of many years of mutual distrust," Ms Bonino said on Sunday.
However, on the question of the nuclear deal in particular, she said: "Both sides will in good faith make the maximum effort to turn it into an agreement."
Mr Zarif spoke with the EU's chief diplomat Catherine Ashton on Sunday and agreed to postpone talks until after Christmas.
On Sunday he urged all parties in the talks should avoid "troublesome" issues, without specifying what these were.
Iranian negotiators had been meeting with representatives of the "P5+1" group (US, UK, France, China, Russia and Germany) to discuss technical details of the deal would be implemented.
A first round of technical talks on how to implement the accord was suspended earlier this month when the US expanded a sanctions blacklist.
However, as part of the deal, inspectors from the UN's nuclear agency visited Iran's Arak heavy water production plant on 8 December for the first time in more than two years.
Israeli and American critics of the Geneva deal say it gives Iran cover to expand the programme.
Earlier this month US Secretary of State John Kerry defended the deal before a panel in Congress and resisted calls to introduce additional sanctions.
Western nations have long accused Iran of seeking to acquire a nuclear weapon, but Iran says the programme is for solely peaceful ends.