Deadly blast at Iran war film shoot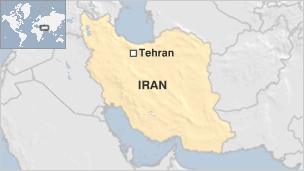 At least five people have been killed and several seriously hurt in Iran in an explosion at a filming location.
The blast happened some 35km (21 miles) south of the capital Tehran, as explosives were being transported to a shoot on the Iraq-Iran war (1980-1988).
The head of special effects, actors and members of the production team were among the dead, state media reported.
One crew member was quoted as saying live explosives were used because of an embargo on the import of dummy props.
"The explosives are of the kind used in war zones. We had no choice but to use this type of explosive as the import of such material used for movies is banned," Abbass Shoghi was quoted by ISNA as saying.
One Iranian news agency is reporting that a sixth person has died in hospital.
Filming for Meerajiha, directed by Masoud Dehnamaki, began in September last year at the Sacred Defence Cinematic Town, a location where Iranian war films are usually made.
The victims included Ali Akbar Ranjbar, the managing director of the film set, and Javad Sharifi Rad, director of special effects, Mehr news agency reported.
One of the actors told Mehr that explosives had accidentally detonated next to a vehicle belonging to Mr Sharifi Rad.
The film's premiere had been planned for the Fajr Film Festival in February.