Geneva II Syria talks: Press review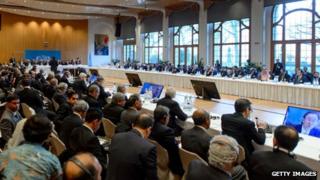 Papers in the Middle East and Russia consider the prospects for the Geneva II conference, with most expressing pessimism over the chances of reaching a settlement in Syria.
While many papers acknowledge that the conference marks the first face-to-face talks between the Syrian government and the opposition, some papers in the Arab world criticise both the Syrian authorities for turning a blind eye to the bloodshed, as well as Russia and the West for their perceived biases.
Iranian papers say that the talks will fail because of the withdrawal of an invitation for Tehran to attend, while in Russia, one commentator believes it will take a "miracle" for them to succeed.
Syria
Mahdi Dakhallah in Syria's Tishrin:
Syrians are aware that the Geneva II conference will not produce a magic solution. However the government, acting on its responsibility towards the people, is keen to seize any opportunity, no matter how small, to end the bloodshed and destruction. In contrast, the other side takes murder and destruction to be the only means towards achieving their goals.
Middle East press
Commentary by Salih al-Qallab in Jordan's al-Ra'y:
Emphasis must be placed on the legitimate demands by these [Syrian opposition] parties demanding a guarantee that Syrian President Assad and his ruling bloodthirsty clique will have no role in Syria's present or its future.
Editorial in Jordan's al-Dustur:
All eyes are on Geneva today, although there is little chance of success for the second meeting between the Syrian government and the opposition. This is because the regime is talking as if there had been no bloodshed.
Editorial in UAE's al-Bayan:
It is hoped that the Geneva II conference concludes with a binding consensual international vision that does not damage the Syrian people's right to security and stability, and their right to elect a government capable of building a promising future.
Commentary by Randa Taqi-al-Din in pan-Arab al-Hayat:
The Geneva process is doomed to fail because Russia and Iran want President Assad to remain in power and the United States is not interested in exerting real pressure on Iran and Russia to make them change their position.
Editorial in pan-Arab al-Quds al-Arabi:
We do not believe that Ban Ki-moon, William Hague and Sergei Lavrov… do not know what is happening in the "Syrian slaughterhouse". In this way they are just like the Syrian delegation to Geneva II who were chosen because their hands have not been "stained with blood" and who are taking part regardless in the continuation of this extensive massacre. Let us acknowledge then that starving and torturing 11,000 Syrian detainees, then strangling them with ropes, wires and hands... is an issue that does not concern "the civilised world" enough for it to make a move and prevent this massacre.
Editorial in Qatar's al-Rayah:
The world did not need reports from defectors to prove that the Syrian regime had gone too far in committing crimes against its own people… It is there again today for all to see: the lack of hesitation in killing 11,000 detainees, whether by starving them or subjecting them to systematic torture.
Iran
Editorial by Ali Tatmaj in conservative Hemayat:
By ignoring the UN's independence in inviting countries to Geneva II and by excluding Iran from the meeting, the Westerners have practically called the UN's independence into question. This shows that the West is trying to block Geneva II from achieving a result and is trying to prolong the crisis in Syria.
Editorial by Hamid Reza Asefi in reformist Sharq:
With Iran absent, the Geneva II conference is doomed to failure.
Editorial by Mohammad Irani in reformist E'temad:
It is very unlikely that Geneva II will achieve a tangible result because of the wide gap between the two opposing sides. The Syrian government and Russian representatives will talk of the need to find a way to deal with the growth of radicalism and terrorism in Syria and the whole region, while the goal of the representatives of the pro-terrorism and pro-violence currents is only to overthrow the current Syrian government at any cost.
Editorial in hard-line Qods:
The presence of countries [at Geneva II] that have a role in the formation and continuation of the destructive crisis in Syria shows that the conference will be unable to end the 34-month crisis. The Islamic Republic of Iran believes that Syria's future should be determined by its own people.
Israel
Commentary by Boaz Bismuth in Yisrael Hayom:
On paper this conference is supposed to try to bring peace. The chances are slim. It is true that for the first time, representatives of the regime are sitting with those of the opposition but the two sides have contradictory interests. In the end, Iran is not taking part and this is perhaps the most positive thing because there are enough obstacles in Geneva.
Russia
Expert Vladimir Yevseyev in Vedomosti:
No breakthrough should be expected, although the very fact that the Syrian authorities and opposition are going to hold a meeting is a success. Neither of the sides has a clear advantage in the war, therefore no-one is ready to make concessions.
Russian Academy of Sciences researcher Georgiy Mirskiy in Novyye Izvestiya:
A miracle is possible, provided that Russian Foreign Minister Sergei Lavrov and US Secretary of State John Kerry manage to work out a formula that makes Assad think he is holding on to power while at the same time making the opposition believe he is not. If they can come up with this formula, they deserve a Nobel prize.
BBC Monitoring reports and analyses news from TV, radio, web and print media around the world. For more reports from BBC Monitoring, click here. You can follow BBC Monitoring on Twitter and Facebook.