Iraq violence: Baghdad bomb blasts kill 33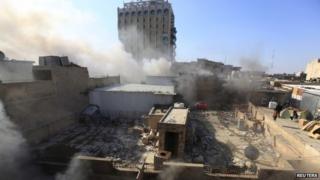 At least 33 people have been killed in a series of bomb attacks in Iraq's capital, Baghdad, officials say.
Two car bombs exploded outside the foreign ministry, near the heavily-fortified Green Zone, while a suicide bomber struck a restaurant nearby.
Another car bomb went off in Khilani Square in the city's commercial heart. Later, three car bombings were reported in the south-east of capital.
There has been a surge in sectarian violence in Iraq in the past year.
Iraqi government data says more than 1,000 people died in January, which would be the highest monthly toll for almost six years.
There was no immediate claim of responsibility for Wednesday's bombings, but al-Qaeda-linked Sunni militants have been waging a campaign of violence against the Shia-dominated government.
"Iraqi political leaders should show national unity in dealing with such threats and unite against terrorism," the UN envoy to Iraq, Nikolay Mladenov, said in a statement.
On Tuesday, at least seven people died in a series of bombings, while two rockets also exploded inside the Green Zone, which houses parliament, government buildings and some foreign embassies.
On Monday, 23 people died in car bombings in and around the capital.