Israeli-Palestinian cancer support group knocks down walls
By Shira Gemer
BBC News, Jerusalem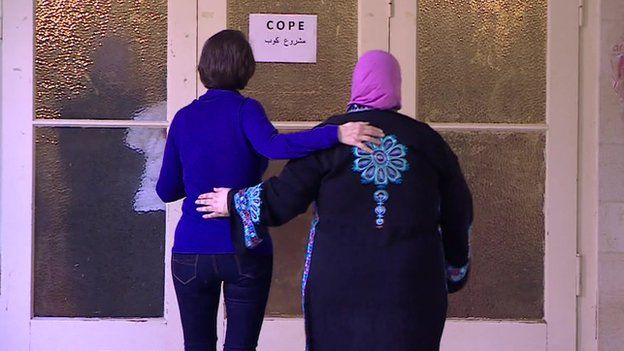 On a warm winter's day, Ibtisam Erekat and Ruth Ebenstein meet at a bench on top of the Mount of Olives, on the eastern side of Jerusalem.
After embracing each other, they sit down and chat about the latest developments in their lives. Ibtisam shows Ruth photos of a recent family wedding, while Ruth excitedly asks her questions about each of the guests.
At first glance, they look like two old friends. However, Ibtisam and Ruth say they mean more to each other than that. They consider themselves sisters - sisters in cancer.
The relationship between the two women - one a Jew and the other a Muslim - is already unusual, but their story turns out to be even more remarkable.
They met three years ago through the Cope forum, a support group for breast-cancer sufferers and survivors that draws in both Israelis and Palestinians.
Ruth, 45, was diagnosed with breast cancer while she was nursing her third child three years ago.
"I was literally nursing my son when a radiologist came in and said to me: 'If the pathology report comes back negative, I'll think there's a mistake. I'm so sure that's cancer,'" she recalls.
"It was this very strange feeling, that my body is producing milk - health and nutrition - for my baby, and yet I have cancer? How can it be? You hear that word, 'cancer', and you think: 'That's it, it's over for me.'
"Right after I had a lumpectomy, my friend told me she heard about an Israeli-Palestinian breast cancer support group. I decided to join right away, thinking that who could better understand me than other women who have gone through the same thing?"
Through Cope Ruth met Ibtisam, a 50-year-old housewife from the Palestinian town of Abu Dis, on the edge of Jerusalem, who shares a story somewhat similar to hers.
"I was nursing my daughter and was one month pregnant with my son when I was diagnosed with breast cancer in 2000," Ibtisam says.
Although she didn't want to lose her baby, Ibtisam followed her doctor's advice to have an abortion and also a mastectomy. However, the result of the first procedure was surprising.
"After the abortion I had bleeding. I felt that I was still pregnant and sure enough I was," she says.
"In some miraculous way the abortion didn't work. I felt that God took something from my body and then gave me something else. My son, Ahmed, is now 13 years old. He's my co-survivor."
Having to fight cancer while nursing new-born babies is not the only thing the two women share, according to Ruth.
"We both married men who already had kids, so we both inherited step-children," she says.
"We both believe strongly in God, so in that way we also get each other. We are both fun loving, we speak our minds, we laugh a lot - and loudly. And we don't really care what other people think."
Their friendship has evolved and grown through their experiences since then.
"I had my ovaries removed, just to be on the safe side, in August," Ruth continues. "And I didn't make phone calls after my surgery, but I did call Ibtisam. I knew she would want to know how I was."
Ibtisam adds: "We have the same fighting spirit and optimism. She's really a present from the cancer."
The women's friendship has extended to other members of their families.
"I became friends with all of her family. My kids know her. My five-year old son said to me: 'I'm going to learn Arabic as quickly as I can so that I can speak with Ibtisam. And I will teach her Hebrew,'" Ruth says.
Another thing that the two have in common is their strong activism for breast-cancer awareness.
"If I know of women who have breast cancer, I do everything that I can in order to help them," says Ibtisam. "I take them and help them to get insurance and I help fill out their paperwork.
"A lot of women in my community are afraid and don't understand how fundamental it is to get checked and to go under medical care."
Dr Jawad Bitar, an epidemiologist at the Palestinian health ministry, says breast cancer is the second most common cause of death among Palestinian women, both in Gaza and the West Bank.
"Sadly, most of the Palestinian women who are diagnosed with breast cancer are diagnosed after the disease has already spread to other parts of their body which leads to low survival rates," he explains.
Research by Jamal Zidan, head of the oncology department at the Ziv Medical Center in the northern Israeli town of Safed, says there needs to be increased awareness and testing of breast cancer, particularly among young Arab women.
"I found that race is an important predictive factor for breast cancer," says Mr Zidan.
"The average age of diagnosis of breast cancer in Arab women is 49 years, compared to 59 years in Jewish women. This is a particularly bad thing because breast cancer is generally more aggressive in young women in comparison to older women."
Dr Bitar says breast-cancer awareness is a key step in improving the situation.
"In the past, there weren't means for Palestinian women to get tested for breast cancer, and we thought that once there was, women would get tested more.
"But we're now offering a free test for everyone and it's still highly unpopular to get tested. A lot of women are simply unaware of how mammography can reduce breast-cancer mortality."
While there seems to be consensus that women on both sides should not be scared, and that awareness and testing are key, Ruth and Ibtisam are optimistic about the relationships between Israelis and Palestinians fostered by Cope.
"There is a true solidarity and empathy within our group," says Ibtisam.
"I see how some of the Israeli ladies are saying to the Palestinian ladies: 'Let me take you to my doctor in Tel Aviv. Give me your tests so that I can have my doctor look at it for you.' That gives me hope."
Ruth agrees: "This shows that peace is not a dream, it can happen."
"People have to reach out to each other, they have to hold onto the hope, and they have to understand the complexities of these relationships.
"Let's hope this wall will come down and we'll be able to visit each other without permits and without blockages, because the real enemy is cancer and disease, it's not man-made conflict," she adds.
"When we get together in that room, is anyone looking who's Palestinian and who's Israeli? We're breast-cancer survivors. We fought a much bigger enemy than the Middle East conflict. We fought cancer. And we won."