Olympic skier's topless photos cause storm in Lebanon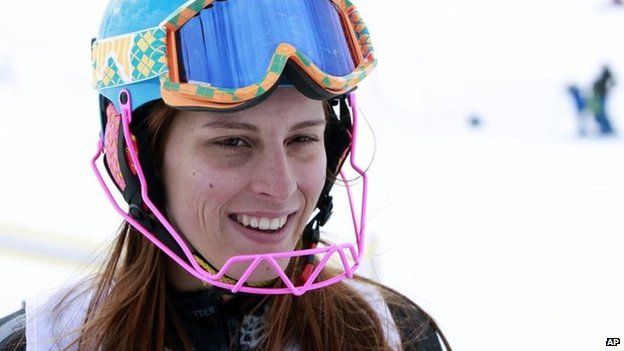 Amid all the controversies surrounding the Sochi 2014 Winter Olympics, one picture of a bare chest has created shockwaves in Lebanon - and it is not one of the famous macho images of Russian President Vladimir Putin.
The Lebanese skier Jackie Chamoun, who was previously unknown to many in Lebanon and abroad, and has suddenly become a talking point for all the wrong reasons.
Lebanese athletes who make it to international events are often self-sponsored, in a country where the budget for the ministry of sports is next to nothing.
So when the two-strong Lebanese team appeared on television at the opening ceremony of the Sochi Winter Olympics, it was a pleasant surprise for many.
But interest quickly faded and few were following their progress until old pictures resurfaced of Ms Chamoun posing topless on snowy mountainside in northern Lebanon.
The 22-year-old, who is competing in the slalom and giant slalom, and another female Lebanese skier had posed three years ago for an Austrian calendar that features both male and female skiers.
The calendar was published late last year, but more explicit behind-the-scenes photographs and video of the photo shoot have since been published online.
Then all hell seemed to break loose when caretaker Minister of Sports and Youth Faisal Karame ordered the Olympic committee to launch an investigation and "take the required steps so that Lebanon's reputation is not harmed".
"Excuse me?" asked Pierre Abi Saab, one of the editors of the local newspaper al-Akhbar in an article entitled: "Leave Jackie's ass alone".
Another newspaper, al-Safir, published an article demanding: "Apologise to Jackie." A third took aim at Lebanese society, bluntly stating: "Jackie strips us naked."
In a way, that was the feeling shared on social media websites.
For many on Twitter and Facebook, the real scandal was that the pictures of Ms Chamoun were described a "scandal" by some Lebanese media outlets in the first place.
Nathalia, a law student, wrote on Facebook: "Breaking news in Lebanon. Winter Olympic skier posed topless for an Austrian calendar three years ago! A full investigation is underway... Great to know where their priorities are..."
Others lamented what they called "horribly backward reactions" in "the hugely patriarchal system" of Lebanon.
Some women and men even thought to demonstrate support to the athlete by posting almost-naked photos of themselves on an "I Am Not Naked" Facebook page, with the hashtag "#StripForJackie".
The aim was to highlight that "some women are beaten or killed, others are raped, and the media shifts their attention to a confident talented beautiful woman who represents her country at the Olympic Games".
"I want to apologise to all of you, I know that Lebanon is a conservative country and this is not the image that reflects our culture," she wrote. "I fully understand if you want to criticise this."
"Now that I'm at the Olympic Games, these photos that I never saw before are being shared. It is sad. All I can ask to each of you who saw this, is to stop spreading it, it will really help me focusing on what is really important now: my training and race," she added.
Lebanon's Olympic committee meanwhile said that while the photos of Ms Chamoun did "not reflect the real image of Lebanese sports", it would take no action and not exclude her from the Sochi Games.
Ms Chamoun is supposed to compete next week. She is not the only one representing her country.
Alexander Mokhbat, an alpine skier who happens to be the national champion, is also aiming for a medal in Sochi.
But since the spotlight has been on nudity rather than performance, Mr Mokhbat's participation has been overshadowed completely.
For some in Lebanon it is a real shame; but others see a glimmer of hope in the reactions in support of Jackie.
At least it is no longer taboo to defend people's rights, or even to pose naked.