Syria conflict: Emerging from the siege of Homs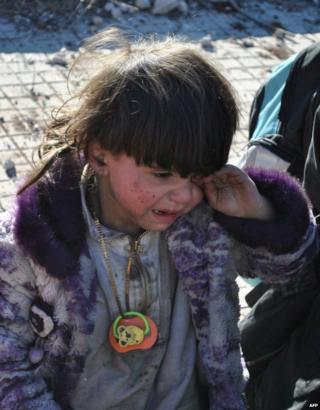 The first to arrive couldn't walk.
They hobbled on crutches, lay moaning on stretchers, or were gently eased into wheelchairs from white armoured vehicles with blue UN flags.
It was a first sad glimpse of lives lived under siege: the wounded who survived nearly two years under fire in the Old City of Homs; the elderly, bent by anguish and age, in need of medicine, comfort, and care.
Then the buses pulled up, curtains drawn, outside the abandoned white banqueting hall transformed into a makeshift reception centre for people escaping the rebel-held Old City under a temporary truce.
Each driver paused, engine still running, until a human cordon formed outside, of young red-vested volunteers of the Syrian Arab Red Crescent Society.
Then each bus, in turn, disgorged its passengers. Unexpectedly, most were young men, thin and gaunt-faced, who leapt out, anxious to disappear from view. Then a small knot of children, eyes nervously surveying the scene, stepped out hesitantly with their mothers, and hurried inside.
"Everyone who is carrying a weapon or in military clothing should leave this area which is only for the UN and the Red Crescent," declared the governor of Homs, Talal al-Barazi, from the top of the steps into the centre.
His voice was amplified by a megaphone but it didn't strengthen the force of his order.
Eating cats
Inside a cavernous hall with disused fountains and bright chandeliers, uniformed soldiers moved through the crowds and plain-clothed intelligence officials shadowed long wooden tables where starving people fell upon their first real meal for too long a time.
"It was a very, very, very difficult life, a miserable life," moaned one man with hollowed cheeks and shrunken shoulders.
"We lived on grass boiled with water. We lived with gunfire and bombardment."
Children seated around the table were brown-faced from the layers of dirt and grime that had built up over months of living without water to wash.
Little Baraa struggled to find words and courage to speak but one detail was firmly lodged in her mind: "People killed cats to eat."
Baraa means innocent in Arabic, but it no longer captures the life of this little girl.
The mother who gave Baraa her name died instantly when a mortar slammed into their kitchen. The children found her body slumped over the cooker, decapitated.
Then their pet cat was killed by a sniper and snatched from the road by a passer-by desperate to find food.
Shattered schools
"All these children have seen far too much," said Laila Baker of the UN's Population Fund, who spent time helping the young ones at the centre.
"Look at their skin, their teeth. We will see the impact of this deprivation when they finally return to school."
The UN says some food is available, provided through smugglers at high prices. But many do resort to local weeds, widely referred to as grass.
A life under siege means an existence without any of the normal rituals and rhythm of daily life.
Schools in the Old City are shuttered, and mostly shattered.
There's no electricity or running water.
Only one hospital is functioning, and only just.
One woman who recently gave birth by caesarean section left the delivery room with her newborn baby, and walked for hours with her stitches to get home. She feared it was too dangerous to remain in hospital.
"Think of the disabled, the blind, the elderly," said the deputy head of the UN's operation in the Old City, Matthew Hollingworth. He was part of the team pinned down by gunfire and mortars when the convoy was attacked last weekend.
"There are barriers everywhere," he said.
Entire streets lie in utter ruin. Roads are laced with metal checkpoints and broken piles of sandbags.
And that makes it hard for this rare "humanitarian pause" to reach everyone who is desperate to escape. Only half of the Old City's population of nearly 3,000 have been able to leave since the operation began last Friday.
And some people are being stopped from going. Senior Christian clergy waited on the edges of the Old City on Wednesday hoping that about 50 Christian residents would finally come out.
"We could see them from where we were standing," said Father Michel Naaman. But they were told it wasn't safe for them to travel that last short stretch across a no-man's land.
UN and Church sources say disputes between rival opposition groups led a small number of fighters, who complained they weren't included in the negotiations, to prevent some residents from leaving.
We could also hear gunfire ringing out through the day. Members of a local paramilitary national defence force are fiercely opposed to a deal which is allowing rebel fighters to get out and food to get in.
Fear of arrest
Under the deal brokered by the UN with the government and the opposition, only women, children and boys under the age of 15, and men older than 55, were expected to emerge.
Now there's a global spotlight on a screening process which separates the young men for questioning. The governor of Homs has repeatedly stressed that most men will soon be freed.
But some won't be and will be put on trial, the governor explained, "on charges of terrorism, criminal activity, or sabotage".
Some families expressed concern to us that once the UN leaves, there could be more arrests, and mistreatment.
"We're not leaving," insisted the UN's resident humanitarian coordinator, Yacoub el Hillo.
The UN is hoping that this small success, however imperfect, can serve as a way forward in some of the many other areas where civilians are paying an enormously and unacceptably heavy price in a war where food is now a weapon.
Sensitive negotiations are under way over the future of the Old City of Homs including possible amnesties, or joint security arrangements which could allow opposition groups to remain in that area.
This rare truce has happened in a place where most fighters are local, and want to stay. And where some local officials are ready to do deals to restore calm.
"Most of the residents of the Old City want to eventually go back to their homes," said one UN official who expected work could get under way at some point to start clearing the streets and re-re-establishing basic services.
But, for now, life in what was a cherished ancient quarter of Homs is no longer a life worth living.