Lebanon gets coalition cabinet after 10 months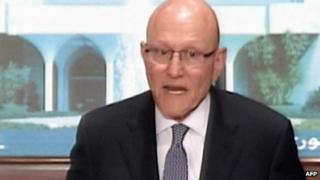 A new government has been formed in Lebanon after 10 months of talks.
Prime Minister Tammam Salam, is to head a cabinet split equally between two opposing factions - the Hezbollah-led pro-Syria group and the Western-leaning March 14th movement led by Saad Hariri.
A further eight ministers have been nominated by President Michel Suleiman, who occupies the middle ground.
Lebanon has been rocked by violence spilling over from the Syrian conflict in which both sides are involved.
Shia Hezbollah fighters on the ground have backed government forces, while the Sunni-based March 14th side has supported the rebels.
The announcement of a new power-sharing cabinet brings to an end an uneasy vacuum in Lebanon, says the BBC's Jim Muir in Beirut.
When Tammam Salam was asked to form a new government last April - following the resignation of Najib Mikati - he had the support of all sides, and he said he did not expect the task of assembling a new cabinet to take long.
The fact that it has taken more than 10 months is testimony to the bitterness of the political divide in Lebanon and the extreme difficulty of getting all sides to agree to the nomination of ministers, especially to certain sensitive posts, our correspondent says.
"After 10 months of efforts, of patience, a government protecting the national interest is born," said Prime Minister Salam in his announcement on Lebanese television.
"It is a unifying government and the best formula to allow Lebanon to confront challenges," Mr Salam said.
From the Shia-led March 8th faction, former Energy Minister Gebran Bassil will be foreign minister, and former Health Minister Ali Hassan Khalil takes over at the finance ministry.
Nouhad Machnouk, an MP from Mr Hariri's March 14th bloc, has been appointed interior minister.
Lebanon has a complex power-sharing system that - by tradition - means the prime minister is a Sunni Muslim, the speaker of the parliament a Shia Muslim, and the president a Christian.
There has been a spate of bomb attacks in Beirut in recent weeks largely blamed on the rise of sectarian tension over the conflict in Syria.
Sectarian tensions in Lebanon have been stoked by Hezbollah's support for the government forces in Syria, with dozens of people killed in a series of car bombings in Beirut and Tripoli in recent months.
Both Sunni and Shia militants have been blamed for recent attacks.