Israeli police and Palestinians clash at Jerusalem site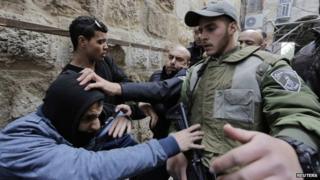 Israeli police have clashed with Palestinian protesters at a disputed holy site in Jerusalem.
Police said about 20 youths threw stones and fireworks at officers from the site, known to Jews as the Temple Mount and Muslims as Haram al-Sharif.
Police then entered the compound and arrested three people, he added.
The unrest came as the Israeli parliament prepared to debate a motion calling on Israel to "realise its sovereignty over the Temple Mount".
Moshe Feiglin, a right-wing member of Prime Minister Benjamin Netanyahu's Likud party who tabled the motion, wants restrictions on Jewish visitors to be lifted. They are currently barred from praying or engaging in other religious activities there.
Although no vote was expected, the Islamic Waqf - the trust that has overseen the site since Israel captured East Jerusalem from Jordan in the 1967 Middle East war - expressed concern and said there had been "Jordanian contacts with Israel to prevent any moves" affecting its status.
'Provocations'
The Temple Mount/Haram al-Sharif (Noble Sanctuary) compound, in the Old City in East Jerusalem, covers an area of 35 acres (14 hectares).
It is revered by Jews as the site of the First and Second Temple in ancient times. It is known in Jewish tradition as the "abode of God's presence".
It is also of deep religious, political and national significance to Palestinians and to Muslims around the world, housing the Dome of the Rock and the al-Aqsa mosque.
The Palestinian protesters were said to have gathered at the site on Tuesday morning because of rumours that Jewish extremists were planning to raise the Israeli flag there.
When Israeli police arrived to open the Moughrabi, or Moors', Gate just after 07:30 (05:30 GMT), they were attacked by the protesters, police spokesman Micky Rosenfeld said.
The officers responded by storming the compound and firing stun grenades and tear gas.
Three protesters were arrested, several others were treated for tear-gas inhalation and two police officers were lightly injured, Mr Rosenfeld added. One report cited Palestinian medics as saying 15 protesters had been hurt by rubber bullets, but Mr Rosenfeld denied that any were fired.
Azzam al-Khatib, director of the Islamic Waqf, said he had called for the closure of the Moughrabi Gate because of the "provocations and statements against Muslims by various right-wing parties".
Palestinian Authority President Mahmoud Abbas condemned what he called "continuous Israeli incursions".
"Such assaults are not only a danger to holy places but also create an atmosphere that will increase violence and hatred and convert the conflict into a dangerous religious conflict," a statement said.