Profile: Egypt's new Prime Minister Ibrahim Mahlab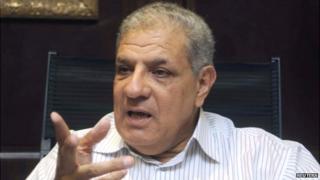 Ibrahim Mahlab, a former construction company chief with a reputation as a "doer", is Egypt's new prime minister.
The outgoing housing minister was given his new role after the resignation on Monday of Hazem Beblawi's government.
Mr Mahlab was a senior official in Hosni Mubarak's former ruling National Democratic Party, and said to have been part of the former president's inner circle. He is also thought to have close links with the military.
As prime minister, he has promised to restore security and "crush terrorism" in a country where more than 1,000 people have been killed since the overthrow of President Mohammed Morsi in July.
He must also deal with Egypt's economic woes, which include a growing budget deficit, a struggling tourist industry and strikes by workers demanding the government introduce a minimum wage.
Policies committee
A civil engineer by training, Mr Mahlab joined Arab Contractors, a state-owned construction company that is one of the oldest and biggest in the Middle East, in 1972.
Over the next three decades, he supervised the construction of bridges, tunnels, power plants and government facilities, and the restoration of historic monuments in Egypt and Saudi Arabia.
In 2001, he become Arab Contractors' chairman, chief executive officer and president.
At the same time, he was reported to have become a member of the NDP's High Council for Policies, which oversaw the formulation of party policies on a range of social, economic, and political issues.
In 2010, President Mubarak appointed Mr Mahlab a member of the now disbanded upper house of parliament, the Shura Council.
'Man of difficult missions'
The state-run al-Ahram newspaper said Mr Mahlab was "the image of the minister who interacts with the masses in the street, responds to the demands of the poor and rebukes officials if they fail to do their work".
He would undertake "field tours" even in "scorching sun, cold and rain", it added.
The 65-year-old was also praised for removing corrupt officials from the housing ministry.
Another newspaper, al-Misri al-Yawm, dubbed Mr Mahlab "the man of difficult missions" and "one of the best administrative minds" in the Arab world.
Many political parties also gave Mr Mahlab a warm welcome.
The Tamarod (Revolt) movement, which led the mass protests against Mr Morsi that led to his overthrow by the military, said he was "one of the most active ministers" in Mr Beblawi's government.
Al-Nour - the Salafist party that was once an ally of Mr Morsi's Muslim Brotherhood - had been calling for Mr Mahlab to be given the premiership since January.
Friends in high places
Opposition media claimed that Mr Mahlab had close ties to the Mubarak family before the president was toppled by a popular uprising in 2011.
The Imsik Fuloul ("Catch Former Regime Loyalists") website claimed that he had faced corruption charges in connection with the renovation of presidential palaces during Mr Mubarak's rule.
The NDP's policies committee, which was led by Mr Mubarak's youngest son Jamal, included people who were seen as part of the Mubarak family's inner circle.
Mr Mahlab was also said to have good relations with the military establishment because he had supervised some construction projects carried out by the army.
BBC Monitoring reports and analyses news from TV, radio, web and print media around the world. For more reports from BBC Monitoring, click here. You can follow BBC Monitoring on Twitter and Facebook.