Hezbollah vows to respond to 'Israeli air strike'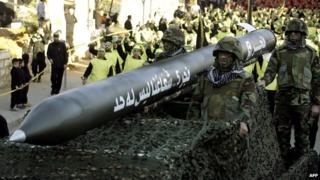 Hezbollah has said it will respond to an alleged air strike by Israel warplanes on one of its bases on the Lebanese border with Syria on Monday.
The militant Shia Islamist movement described the attack as a "blatant assault on Lebanon, and its sovereignty and territory", al-Manar TV reported.
It would "choose the time and place and the proper way to respond", it warned.
Israel has not officially confirmed that it carried out the air strike, near the Bekaa Valley village of Janta.
But on Tuesday, Prime Minister Benjamin Netanyahu stressed that his government would "do whatever is needed to protect Israel's security".
"We will not say what we're doing or what we're not doing," he added.
'Zionist hostility'
One senior Israeli security official told Time magazine that the warplanes had targeted a convoy carrying surface-to-surface missiles from Syria.
The missiles could carry warheads heavier and more dangerous than almost all of the tens of thousands of missiles and rockets Hezbollah had in its arsenal, the official added.
Hezbollah's statement said the air strike caused material damage, but denied that it targeted any artillery or rocket positions or caused any casualties. Local reports had said four members of its military wing, the Islamic Resistance, were killed.
"The attack confirms the nature of the Zionist hostility and requires frank and clear position from all," Hezbollah added. "The Resistance will choose the time and place and the proper way to respond to it."
Israeli jets have bombed areas on the Syrian side of the border several times since the start of the uprising against President Bashar al-Assad three years ago, but if confirmed this would be the first Israeli air strike inside Lebanese territory in that time.
Eyal Ben-Reuven, a former deputy head of the Israeli military's Northern Command, said he doubted Hezbollah would retaliate since it was too busy fighting alongside government forces against the rebels in Syria.
But he warned that it was imperative that Israel maintain its ability to operate freely in the skies and in the seas, and block more sophisticated weapons from reaching Hezbollah.
"Israel has always stayed as the main objective for Hezbollah and Iran,'' he told the Associated Press. "A terror organisation gets these kinds of capabilities not for deterrence, but for acts."
Israel and Hezbollah fought a war in 2006, during which Israeli warplanes bombed Hezbollah strongholds in southern Lebanon and in Beirut, while Hezbollah fired about 4,000 rockets at Israel.
More than 1,125 Lebanese, most of them civilians, died during the 34-day conflict, as well as 119 Israeli soldiers and 45 civilians.