Doha, Qatar blast kills 12 and injures at least 30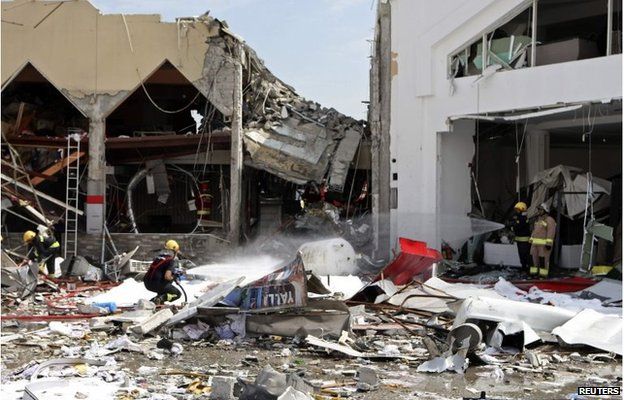 An explosion at a restaurant in the Qatari capital Doha has killed 12 people and injured at least 30, according to officials.
Initial indications suggested a burst natural gas tank on top of a Turkish restaurant was to blame.
It happened shortly after 10:00 (7:00 GMT), near a petrol station and the popular Landmark Mall shopping centre.
The force of the blast caused the partial collapse of the Istanbul Restaurant.
It also sent shrapnel flying up to 50m (160ft) away, authorities said.
Officials are treating the explosion as an accident, though it is unclear what ignited the tank.
The 12 people reported killed were all Asian or Arab, said the head of Qatar's police force Maj Gen Saad al-Khulaifi, who added that some of the injured were seriously hurt.
He vowed authorities would conduct a full and transparent investigation.
The civil defence director of operations, Hamid al-Duhaimi, said four people were found dead at the scene and the others died on their way to the hospital.
Alexandra Permuy, a 25-year-old graduate student from Miami in the US, who lives nearby, was awakened by the explosion.
At first I thought it was just thunder ... but when I looked out the window there's not a cloud in the sky,'' he said.
The restaurant had recently opened following renovations and is on a row of restaurants that get particularly busy late at night, she said.
Hamad Medical Corp, which manages eight hospitals and the national ambulance service, put out a call for blood donations on social media shortly after the blast happened.
Qatar is a small, wealthy Gulf Arab state with abundant reserves of natural gas and little violent crime or civil unrest, although concerns have been raised about building safety.