Israeli troops 'using excessive force' in West Bank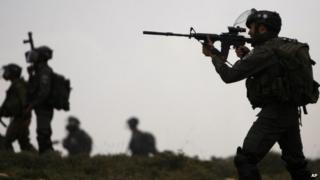 Israeli forces are using excessive and reckless force in the occupied West Bank, Amnesty International says.
More than 40 Palestinians were killed in the past three years and the rate of killings rose significantly in 2013, a report by the human rights group says.
It alleges that Israel is allowing its soldiers to act with virtual impunity.
Israel said Amnesty had ignored an increase in Palestinian violence and showed a complete lack of understanding of its operational challenges.
'Needless loss of life'
Amnesty International's report, entitled Trigger Happy, says there has been mounting bloodshed and human rights violations in the West Bank since January 2011 as a result of the use of "unnecessary, arbitrary and brutal force against Palestinians" by Israeli soldiers and police.
According to the UN, 27 West Bank Palestinians were killed by Israeli forces last year, nine more than the totals in 2011 and 2012 combined.
Nine Palestinians in the Gaza Strip were reportedly killed by Israeli forces in 2013, while Palestinians killed three Israeli civilians and three Israeli security forces personnel in Israel and the West Bank.
Amnesty documented the killings of 22 Palestinian civilians in the West Bank last year, of which it said at least 14 were connected to protests. In all of the cases, those killed did not appear to have posed a direct and immediate threat to life, it said.
"Several victims were shot in the back suggesting that they were targeted as they tried to flee and posed no genuine threat to the lives of members of Israeli forces or others," the report said. "In several cases, well-armoured Israeli forces have resorted to lethal means to crack down on stone-throwing protesters causing needless loss of life."
"There is evidence that some individuals were victims of wilful killings, which would amount to war crimes."
A further 261 West Bank Palestinians, including 67 children, have been seriously injured by live ammunition fired by Israeli forces in the past three years, according to Amnesty. Some 8,500 others, including 1,500 children, have been shot and seriously wounded by other means, including rubber-coated metal bullets and tear-gas canisters, it says.
The report also accuses the Israeli authorities of failing to publish the findings of investigations into a number of suspected unlawful killings.
"The frequency and persistence of arbitrary and abusive force against peaceful protesters in the West Bank by Israeli soldiers and police officers - and the impunity enjoyed by perpetrators - suggests that it is carried out as a matter of policy," Amnesty's Middle East and North Africa Director Philip Luther said.
A spokesperson for the Israel Defense Forces (IDF) said Amnesty's report "wholly ignores the substantial increase in Palestinian violence over the past year, and shows a complete lack of understanding as to operational challenges the IDF is posed with".
A statement said there were more than 5,000 rock-throwing incidents, in which 132 Israeli civilians and military personnel were injured. In addition, there were 66 "further terror attacks", which included shootings, the planting of improvised explosive devices (IEDs), blunt weapon attacks, and the abduction and murder of a soldier, it added.
"Where feasible the IDF contains this life-threatening violence using riot-dispersal means, including loud sirens, water cannons, sound grenades and tear gas. Only once these tools have been exhausted and human life and safety remains under threat, is the use of precision munitions authorised," the statement added.
Stand-off
Hours after the report's publication, Israeli forces shot dead a Palestinian militant they had tried to arrest in the West Bank town of Bir Zeit.
Witnesses said soldiers and police surrounded the home of Muataz Washaha, 24, at about 06:00 (04:00 GMT) and called on him to surrender, but that he refused to leave.
After several hours, they knocked down part of the building's outer wall with a bulldozer and opened fire, the witnesses added. Mr Washaha's body was found afterwards.
The Israeli military said he had been wanted for "suspected terror activity" and that its forces had operated under the assumption that he was armed. An assault rifle was later found inside the house, it added.
Palestinian sources said Mr Washaha had been affiliated to the Popular Front for the Liberation of Palestine (PFLP).