Syria jihadist group Isis 'retreating after warning'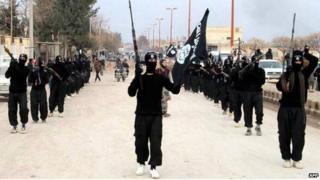 Reports from northern Syria say a rebel jihadist group has been pulling back from positions after being given an ultimatum by a rival.
The Islamic State of Iraq and the Levant (Isis) is said to have been retreating towards the city of Raqqa.
The Nusra Front has given Isis until Saturday to accept mediation or face being expelled from Syria.
Infighting between rival rebel groups has seen more than 3,000 people killed in the past two months.
The main confrontation is between Isis and other Islamist militant groups.
'Residents celebrating'
Abu Mohammed al-Julani of the Nusra Front, which is affiliated with al-Qaeda, warned Isis on Tuesday that it would be driven from Syria and "even from Iraq" if it did not accept arbitration within five days.
He demanded that Isis halt all military operations against other rebels, and allow an Islamic court to rule on its actions.
The threat came after the killing of an al-Qaeda emissary, Abu Khaled al-Suri, in a suicide attack on in the northern city of Aleppo on Sunday. Rebel groups blamed ISIS for the bombing.
The latest reports suggest ISIS is taking the threat from the Nusra Front seriously, the BBC's Arab affairs editor Sebastian Usher says.
Isis appears to have pulled fighters out of positions in Aleppo province, where it may fear it is not strong enough to withstand attack.
Videos posted online appear to show residents celebrating in a town that ISIS fighters have left, our Arab affairs editor reports.
The group seems most concerned with protecting the area around its key stronghold, Raqqa, he adds. It has imposed its severe interpretation of Islamic law, including a tax on Christians, in the city.
Isis grew out of the former Islamic State of Iraq (Isi), a jihadist militant umbrella group that included al-Qaeda in Iraq. It is believed to have helped create the Nusra Front in mid-2011.
In April 2013, Isi leader Abu Bakr al-Baghdadi announced the merger of his group and the Nusra Front - effectively a takeover - and the creation of the Islamic State in Iraq and the Levant (ISIS).
But the move was rejected by Julani and Ayman al-Zawahiri, al-Qaeda's overall leader, who recognised the Nusra Front as its sole Syrian offshoot.
Since then, Isis and the Nusra Front have operated as separate entities, with the latter focusing on toppling President Bashar al-Assad and maintaining better relations with other rebels.
Isis has seemed to be more concerned by territorial gains and implementing its extreme interpretation of Islamic law.
Isis strongholds in rebel-held and contested areas