Egypt police jailed over 2010 death of Khaled Said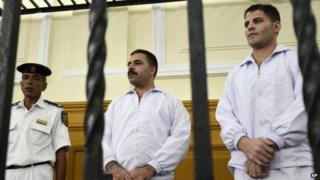 A court in Egypt has jailed two policemen for 10 years for the killing of man whose death helped galvanise the uprising against Hosni Mubarak in 2011.
Twenty-eight-year-old Khaled Said was beaten and tortured while in police custody in 2010.
The two officers were initially convicted and sentenced to seven years in jail, but a retrial was ordered.
Said's family said the tougher sentences would send out a strong message against police brutality.
In the past three years, the force has faced repeated accusations of brutality and mistreatment, and critics say it remains unaccountable.
Facebook page
Said died after he was dragged out of an internet cafe and set upon by Awad Suleiman and Mahmoud Salah in the northern city of Alexandria in June 2010, reportedly after he had posted online a video clip that showed officers handling illegal drugs.
An initial post-mortem and police investigation concluded that he had died of suffocation after trying to swallow a packet of drugs he had been carrying. But photographs of his battered face were leaked, casting doubts on the explanation.
This lead to the creation of a Facebook page called "We Are All Khaled Said", which campaigned against police brutality.
The page, which attracted hundreds of thousands of followers, urged people to participate in the nationwide anti-government demonstrations on 25 January 2011 - Egypt's National Police Day. Eighteen days later, Mr Mubarak was forced to resign.
The trial of Suleiman and Salah was delayed by the unrest, but they were eventually convicted of manslaughter in October 2011. Both subsequently appealed to the Court of Cassation and it ordered a retrial.
Despite pleading not guilty, they reportedly showed little emotion upon hearing the verdicts on Monday.
Mahmoud Abdul Rahman, a lawyer for Said's family, told AFP news agency that "justice has been delivered for all" and a message of "deterrence" sent to a powerful institution.