Gaza's Hamas government critical as Abbas meets Obama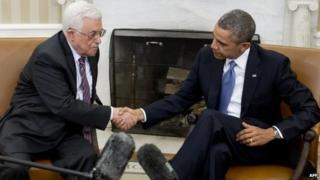 As the Palestinian President Mahmoud Abbas meets President Obama at the White House to discuss negotiations with Israel, political leaders in Gaza remain firmly opposed to the peace process.
There is frustration that critical voices in the Hamas government are not being heard and that pressing issues related to the Gaza Strip are being neglected.
"The Palestinian Authority must end the negotiations," says Mahmoud Zahhar, a senior Hamas leader. "They now affect the holy sites... [Israel's] settlement activities, the status of Jerusalem, and the right of return for Palestinian refugees."
The latter point has a particular resonance in Gaza, where 1.2 million of some 1.8 million residents are registered refugees. Most of their families fled or were forced to leave their homes in the war that followed Israel's creation in 1948.
"Will [Israel] eliminate the right of return? Do you think anyone would accept that? Does anyone think that understandings and agreements can be reached on those issues?" asked Dr Zahhar rhetorically at a meeting with journalists in Gaza City.
Hamas remains committed to using violence against Israel.
Its founding charter calls for the destruction of the State of Israel and the establishment of an Islamic nation in historic Palestine. It is viewed as a terrorist group by Israel, the United States and European Union, among others.
Unlike the moderate Fatah faction headed by Mr Abbas, Hamas has never supported peace negotiations as a way to end the Israel-Palestinian conflict.
Its differences with Fatah and the Palestinian Authority - the interim government set up after the 1993 Oslo peace accords - have only increased since 2007 when Hamas, which won parliamentary elections the previous year, ousted forces loyal to Mr Abbas in Gaza and set up a rival government.
And it is not only Hamas that opposes the negotiation process, but also leftist movements such as the Popular Front for the Liberation of Palestine (PFLP), the second biggest faction in the Palestine Liberation Organisation (PLO).
The PFLP is currently boycotting participation in the Executive Committee of the PLO, which oversees peace talks.
Abbas's mandate?
The US brokered the latest round of direct peace talks that began last summer. It is putting pressure on Mr Abbas to accept a "framework" agreement so that the talks can be extended beyond 29 April, the date by when they had hoped to agree a final deal.
As on previous occasions, Mr Abbas has said he has a mandate to conduct the negotiations on behalf of all the Palestinian factions, including Hamas.
He traces this back to a national agreement document that was reached by all Palestinian factions, with the exception of Islamic Jihad, signed in June 2006.
This states that "administration of the negotiations falls within the jurisdiction of the PLO and the President of the PNA (Palestinian National Authority)" and sets the condition that any final agreement must be ratified by the Palestine National Council - the highest decision making body in the PLO - or a general referendum.
However, there are questions over whether this document is still relevant. The rift between Hamas and Fatah means general elections have been delayed and Mr Abbas's presidential term technically ended in 2009.
"Abbas is no longer a legitimate president. On behalf of Hamas, I say that he is not authorised to negotiate and has to withdraw from these useless negotiations," says Hamas leader Salah Bardawil.
Analysts point out that other aspects of the 2006 agreement have not been implemented.
"The authorisation was part of a package deal that also included the accession of Hamas and Islamic Jihad to the PLO and reforms to the political system," says Fathi Sabah, director of the Palestinian Centre for Communication and Development Studies (PCCDS).
Enduring divisions
There are signs that Mr Abbas is counting on the support of the Palestinian public for any peace deal that he is able to negotiate with Israel.
Last month, when he addressed 300 Israeli students and youth leaders in the West Bank city of Ramallah, he was asked about how he intended to integrate Gaza into any agreement.
He replied that 80% of Gazans supported the diplomatic process with Israel, and that Fatah was working on reconciliation with Hamas.
Yet in recent days there have been reminders of the enduring, deep internal political divisions. On Sunday, Hamas police prevented Fatah supporters from holding a peaceful gathering in Gaza City in solidarity with Mr Abbas ahead of his meeting with President Obama.
Hamas police and plain-clothes security officers arrested several organisers of the rally and confiscated posters of Mr Abbas and Palestinian flags.
Khalil Abu Barka, a Fatah supporter and postal worker, insists there should be support for Mr Abbas.
"We have had enough wars and suffering. We should all support our legitimate president who represents all Palestinians," he says. "As long as Abbas is there, Gaza will be on the agenda."
However, many ordinary Palestinians in Gaza feel bitter and pessimistic.
In the densely-populated Shati refugee camp, Zuhair al-Moghrabie, 72, fears Gazans are being forgotten.
"Do the Americans want to establish a state in the West Bank only?" he asks as he sits by a stove to warm himself in the cold weather. "What happens to Gaza, which is under siege?"
"How long will we have to wait and how many people will be killed before the world understands that we all deserve an independent state?"