Israeli soldiers wounded by bomb blast in Golan Heights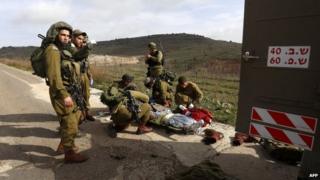 Four Israeli soldiers have been hurt by a bomb blast near the demilitarised zone between the Israeli-occupied Golan Heights and Syria, Israel says.
The device was detonated as the troops approached the frontier on foot after identifying "suspicious activity", an Israeli military spokesperson said.
Israeli artillery subsequently fired on Syrian military positions in the area.
Majdal Shams resident Assad Sfadi told the BBC he had heard explosions and gunfire from an area south of the town.
The Israeli military spokesperson said it held the Syrian military responsible for the incident but could not say whether the militant Lebanese Shia Islamist movement, Hezbollah, was involved.
Two weeks ago, Israeli troops shot two "Hezbollah-affiliated terrorists" attempting to plant an explosive device near the fence demarcating the demilitarised zone, the Israeli military said.
And on Friday, an explosive device was detonated near soldiers patrolling the nearby border with Lebanon. No casualties were reported after the incident in the Mount Dov area, which Israel blamed on Hezbollah.
The Golan Heights, a rocky plateau in south-western Syria, has a political and strategic significance that belies its size.
Israel seized the region from Syria in the closing stages of the 1967 Middle East War, and thwarted a Syrian attempt to retake it in 1973.
The two countries remain technically in a state of war, and UN observers are deployed to monitor the 70km-long (44-mile) demilitarised zone.
Since the uprising began in Syria three years ago, both government forces and rebel fighters have repeatedly crossed into the buffer zone, and there have been several exchanges of fire with Israeli troops.
Following Tuesday's bomb explosion, Israeli Prime Minister Benjamin Netanyahu said: "The border with Syria is recently filling up with jihadists and Hezbollah operatives, and that poses a new challenge.
"In recent years, we've managed to maintain the quiet in face of the civil war in Syria. We'll act decisively to keep Israeli security."