Almost half of Syria's chemical weapons removed - OPCW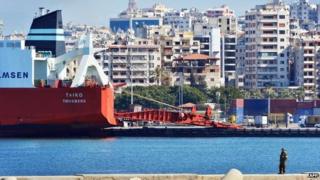 Almost half of Syria's declared stockpile of chemical weapons has now been removed, the Organisation for the Prohibition of Chemical Weapons says.
The latest consignment of the most dangerous chemicals was loaded on to cargo vessels at Latakia on Thursday, according to an OPCW statement.
A total of 11 consignments have been shipped, including all of Syria's sulphur mustard, a blister agent.
The OPCW aims to destroy or remove the country's entire arsenal by 30 June.
The Syrian government approved the initiative last year after a chemical weapons attack outside Damascus left hundreds of people dead.
Revised schedule
The OPCW said three consignments of both "Priority 1" chemicals and less hazardous "Priority 2" chemicals have been shipped from Latakia over the past week.
The 11 consignments represent 49.3% of all the chemicals that must be removed from Syria for destruction, including 34.8% of Priority 1 chemicals and 82.6% of Priority 2 chemicals.
The OPCW said all stocks of sulphur mustard had now been removed.
Sulphur mustard is a "unitary" agent that is stored in a form that can be deployed immediately. In contrast, Syria's nerve agent sarin is thought to be stored in a "binary" manner, meaning it is kept as two distinct chemical precursors that are combined just before use.
Although the OPCW-UN Joint Mission said earlier this month that "good progress" is being made in the removal of the chemical stockpile even though the Syrian government has missed a series of deadlines.
The removal of Priority 1 chemicals was initially due by 31 December, while the deadline for the shipment of Priority 2 material was 5 February.
The Syrian government, which says the shipments have been delayed by security and logistical issues, has presented a revised schedule that aims to have them completed by 27 April.
Removing Syria's chemical weapons: How the plan will unfold
1. The Syrian authorities are responsible for packing and safely transporting the chemical weapons from 12 sites across the country to the port of Latakia. Russia has supplied large-capacity and armoured lorries, while the US has sent container drums and GPS locators.
2. Russia is providing security for loading operations at Latakia, for which the US has supplied loading, transportation and decontamination equipment. China has sent 10 ambulances and surveillance cameras, and Finland an emergency response team in case of accidents.
3. Denmark and Norway are providing cargo ships and military escorts to take the chemicals to the container port of Gioia Tauro in Italy. Russia and China are also providing naval escorts and the first consignment of 16 tonnes left Latakia on 7 January.
4. In Italy, the "most critical" chemical agents will be loaded onto the US Maritime Administration cargo ship, MV Cape Ray, to be destroyed by hydrolysis in international waters. Less-toxic chemicals will be shipped by Norwegian and Danish vessels for disposal at commercial facilities.