New Year optimism among Iranian revellers in Dubai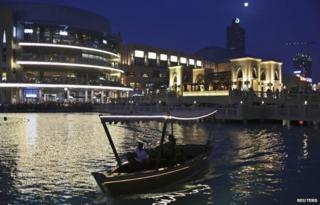 Every March, the Iranian community in the United Arab Emirates swells by thousands as compatriots cross the Gulf to celebrate the Persian New Year, or Norouz, abroad. International sanctions have recently seen a dip in their numbers, but there is optimism of a return to better times, as Marcus George reports from Dubai.
The night throbbed with the sound of Iranian pop music, as hundreds of fashion-conscious young Iranians celebrated the imminent arrival of Norouz, indulging in a way of life that is banned in the Islamic Republic.
An open-air club on Dubai's glitzy shoreline, this is one of many parties and concerts in the emirate that host Iranian tourists who fly there to escape the social strictures at home.
"I feel so free. It's so amazing," cried Mahnaz, a 26-year-old architecture music on holiday from Shiraz.
Wearing a chic black dress and high heels, she danced with her friends and soaked up the vibrant atmosphere.
Cautious optimism
Among the party-goers, there was barely a headscarf - compulsory for women in Iran - in sight.
Norouz symbolises the arrival of spring and a time when Iranians symbolically make a new start.
The last year has brought significant developments for Iran and there is growing hope that the country has seen the worst.
The election of President Hassan Rouhani has opened up the possibility of rapprochement between Iran and Western powers after eight years marked by the uncompromising attitude of his hardline predecessor, Mahmoud Ahmadinejad.
"I hate Ahmadinejad," Mahnaz said emphatically. "He went the wrong way and made so many people unhappy. But the last election was a huge step forward."
Inevitably such hopes are tempered by the false-starts of the past - eight years under reformist president Mohammad Khatami before the pendulum swung back in the other direction with the election of Ahmadinejad.
And then there is Iran's insistence on its right to have a nuclear programme.
"In my country, some people are hungry and have no money. My government says nuclear energy is more important for us but that is not true," said Milad, a 27-year old on a three-day visit from Esfahan.
Staying in the cheapest hotel he could find, like many young, educated Iranians Milad seeks an opportunity to live outside Iran.
"Life in Iran is so hard. So many people have no money, no comforts. We need to see progress," he added resolutely.
Fall in bookings
Every March, Iranians who can afford international holidays and want to get away for Norouz flock to the UAE, joining the approximately 400,000 Iranians who live there.
The visitors are lured by the fun and parties and big-name music events organised by UAE-based Iranian businesses.
On Friday night, thousands will flock to see Googoosh and Ebi, two of Iran's most popular singers.
But with the Iranian currency, the rial, around a third of the value it was against the dollar at the end of 2011, there has been precious little improvement in Iran's ailing economy and the number of Iranians visiting Dubai is well below previous years.
"Dubai has become extremely expensive for Iranians and the demand is down. It's directly connected to the financial situation of the people," said Pooya Taghiee, a development manager for Sadaf, a local travel company with Iranian partners.
Hotels bookings for Iranians over this period have almost halved compared to last year, according to Sadaf.
'Spirits lifted'
In line with November's interim nuclear agreement between Iran and six world powers, the country has started to benefit from limited sanctions relief and there are small signs of economic improvement.
Since taking office in August, Mr Rouhani's government has managed to stabilise the rial at around 30,000 rials to the US dollar, which has provided greater confidence in the Iranian business community.
According to official figures, inflation has dropped from a whopping 40% to around 33% and is expected to fall further.
But the Iranian population has yet to feel any significant benefit.
At a sprawling shopping mall next to Dubai's Sheikh Zayed Road, the Iranian influx is immediately noticeable.
Persian language echoes in the walkways and visitors load up with goods that are unavailable in Iran or carry huge price tags.
An immaculately dressed 30-year-old Tehran resident, laden with shopping bags, discussed the situation in Iran.
For him Iran's progress was a question of when, not if.
"I'm hopeful about this situation. The new president has also been very optimistic and more flexible in general. It's about a change of tone," he said, not wanting to give his name.
"Nothing's happened yet but you can see the spirits lifted. The economy is going to get better. It's inevitable. Iranians are peaceful in general and we have a very bright future."