Jordan's 'forgotten' urban refugees from Syria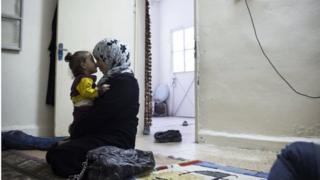 Abu Suleiman and his family may have a roof over their heads, but their shelter more resembles a hovel than a home.
Poorly, and with a brood of very young children to look after, 62-year-old Abu Suleiman lived with his family for months outdoors under plastic sheeting. They eventually made it to Jordan after the buildings where they lived near Damascus were levelled several months ago.
"We don't have homes anymore; Syrian planes destroyed them," says Mr Suleiman, sitting cross-legged on a dingy rug in a small, sparse room in Zarqa.
Mould covers parts of the bare concrete walls and ceiling in the two-room shack in this desert town on the outskirts of the capital, Amman.
In Jordan, the vast majority of about 600,000 registered Syrian refugees shelter in towns and cities, not camps, and they are struggling just to survive.
Almost four out of five Syrian refugees in Jordan live outside the formal camps, but get nothing like the same amount of international attention.
The UN refugee agency (UNHCR) says it is concerned that many Syrians living in urban areas have "reached the limits of their ability to cope", finding it hard to pay rents, while facing inadequate housing and educational challenges for children.
"After escaping the horrors of war at home, hundreds of thousands of Syrians who have fled the violence and deprivation are facing a second crisis in their place of refuge," said Andrew Harper, the UNHCR representative in Jordan, in a recent report.
"Syrian refugees in Jordan are hanging on by a thread: struggling to keep a roof over their heads and to earn enough money to get by."
Charity lifeline
Zarqa is drawing Syrians fleeing the violent three-year civil war because of its proximity to the border and its relative affordability compared with other towns, such as Mafraq and Irbid, where rents and food prices have skyrocketed.
Yet, Abu Suleiman and his wife say they worry for the welfare of their half-dozen daughters, daughters-in-law and 16 grandchildren, most of whom are under the age of seven.
The women's husbands were killed or arrested in Syria and two who made it to Jordan were wounded or suffer from physical disabilities, making it impossible for them to work.
Abu Suleiman, a former Syrian government employee, is suffering from cancer, diabetes and hypertension. He fears for the family's future survival as he, too, cannot work.
Like some 4,500 other Syrians in Zarqa, Mr Suleiman depends on charitable donations from the Catholic humanitarian aid agency, Caritas, just to get by.
The group offers medical clinics and some educational opportunities to refugee children, the majority of whom are Sunni Muslims and arrive with little more than the clothes on their backs.
Caritas has provided bed linen and other basics for Abu Suleiman's home as well as food and nappies for the children, but it cannot treat his cancer as the costs are prohibitive, nor can it pay rents.
'Not our country'
Many Syrian refugees are also finding shelter in Amman.
Maha, a Syrian woman originally from Homs, and her family live in an impoverished district of the capital.
Although Jordan forbids the refugees to work, Maha's husband does so illegally, tracking down odd jobs, like painting homes or fixing things, to try to make ends meet.
But the money is never enough and he faces imprisonment if caught.
They and three young children live in one room in a flat shared with another refugee family.
Their room is lined with foam mattress on the floor where they sit, eat and sleep. It has no pictures, chairs or toys for the children.
"In Syria, we had our own home and land, furniture, a washing machine and, of course, our relatives. Everything we needed. In Jordan, we have nothing," the young mother laments.
"I do not feel safe here because it is not our country," Maha says. "I'm afraid for my tiny daughter when she goes outside for school or runs an errand at the shop. I also worry for my husband's safety."
A Christian from Damascus named Abu Reda says he had to pull his nine-year-old daughter out of a government school in Amman after teachers there tried to force her to wear the hijab, or Islamic headscarf.
The 30-year-old entrepreneur once ran a successful drinks business in a suburb of Syria's capital but now collects plastic containers from the streets to resell to help feed his family in exile.
Although he and other urban Syrian refugees receive a UN stipend of $140 (£85) per month, it barely covers rent, let alone food or medicine.
Abu Reda's family fled to Jordan after militants threatened him and killed his cousin. Now he says they wonder whether they, as part of Syria's Christian minority, will ever be able to return home.
"The little I collect is not enough to live on. We won't be able to carry on like this for much longer," he says.