Death toll climbs in Lebanon clashes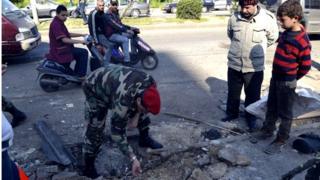 At least four people have been killed in clashes between neighbouring communities in northern Lebanon linked to the conflict in Syria.
The latest deaths brings to at least 21 the number killed since the violence erupted in Tripoli one week ago.
Battles have raged between Bab al-Tabbana, where there is strong support for Syrian rebels, and Jabal Muhsin, which backs President Bashar al-Assad.
Fighting between the two districts has flared since the Syria conflict began.
About 150 people have been wounded in the clashes since last week, the Associated Press reports.
It says gunmen with automatic weapons and rocket-propelled grenades continued to exchange fire after three people were killed overnight.
A fourth person was killed on Friday.
The predominantly Sunni Bab al-Tabbaneh, and Jabal Muhsin, populated mainly by Alawites, the heterodox sect of President Assad, have fought on-and-off for years.
The war in Syria has exacerbated tensions between the two districts in the northern port city.
Lebanon's Daily Star newspaper says six soldiers were among those injured in attacks across the city.