Three Palestinians killed in Israeli raid on Jenin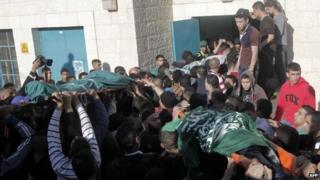 Israeli security forces have shot dead at least three Palestinians during a raid to arrest a Hamas member in the Jenin refugee camp in the West Bank.
The Israeli military said it wanted to arrest a man accused of plotting attacks on Israelis.
It said he barricaded himself in his home and opened fire, injuring two soldiers, and was then shot dead.
A further two Palestinians were killed as rioters attacked the security forces, Palestinian sources say.
The Israeli army reported in a tweet killing four "terrorists" in the clashes while, according to AFP news agency, 14 Palestinians were also wounded, two of them critically.
US-brokered peace talks between Israel and the Palestinians have made little progress since they resumed last July, with the aim of creating a Palestinian state alongside Israel.