Egypt orders mass trials for another 919 Islamists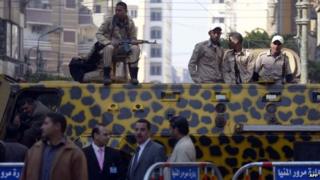 Egypt has ordered the prosecution of 919 suspected Islamists in two mass trials, days after hundreds more were sentenced to death in a separate case.
The UN, US and EU have condemned the verdict in the previous trial, delivered against 528 supporters of the deposed president, Mohammed Morsi.
The defendants in the new cases will be tried on charges that include murder.
The charges stem from a wave of unrest last August that followed a crackdown on the Muslim Brotherhood.
Morsi is among many of the organisation's leaders who are now in jail. Their government was forced from office by the military last year after mass anti-Morsi protests.
Supporters of Morsi responded to his overthrow by staging mass sit-ins in the capital, Cairo.
An operation to break up the protests left nearly 1,000 people dead and sparked a wave of attacks on police stations and government buildings across the country.
All the latest trials - being held in the southern province of Minya - relate to that violence.
Some 16,000 Morsi supporters and alleged Muslim Brotherhood members have been jailed in the last few months.
Charges have so far been brought against 2,147 people.
Clashes at universities
In one of the trials announced on Wednesday, 715 defendants were charged with killing six people and the attempted murder of 51 others in the city of Sallamout last August.
The prosecutor ordered the arrest of hundreds of defendants who are currently at large.
In the other trial, 204 defendants were charged with attacking state institutions in a town in Minya province.
The court has yet to set a date for the trials.
The Muslim Brotherhood's top leader, Mohammed Badie, has been named as a defendant in both the trials announced on Wednesday. He was also one of the 528 people sentenced to death earlier this week, and one of 683 defendants in another trial that was announced on Tuesday.
The death sentences - and the conduct of the trial that preceded them - has provoked fierce criticism from foreign governments and human rights groups.
The prosecution reportedly did not put forward evidence against individual defendants, while defence lawyers were not allowed to present their case or summon witnesses.
The judicial crackdown on the former president's supporters has also sparked clashes at universities across Egypt, pitting students against riot police.
"We wanted to escalate our protest because of those death sentences, which included university students,'' Khadiga el-Kholy, a protester at Cairo University, told the Associated Press on Wednesday.
El-Kholy said police had fired birdshot and tear gas at the students, preventing them from entering public squares.