Egypt's Abdul Fattah al-Sisi 'cult' sees surge in merchandise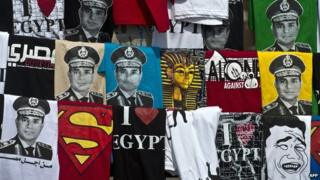 Former Field Marshal Abdul Fattah al-Sisi's popularity among Egyptians has been taking on some unusual forms, including a wild profusion of merchandise, prompting some to speak of almost cult-like veneration.
Items as diverse as T-shirts, jewellery, perfume, chocolates and even sandwiches proudly sport the image or name of the country's new national hero, who announced his intention to stand for the presidency on Wednesday.
And by some accounts, many of these Sisi-themed items are selling like hotcakes.
Some - who fret that Mr Sisi will take Egypt back to military authoritarianism - believe the paraphernalia is a worrying sign of a new official personality cult.
But many Egyptians genuinely regard him as a saviour who helped oust the Muslim Brotherhood-backed government of President Mohammed Morsi last year, and promises the hope of ending the turmoil that has beset Egypt since the Tahrir Square revolution. He is widely expected to win the election by a landslide.
Bahria Jalal, who sells chocolates sporting Mr Sisi's image in her Cairo shop, says she does so out of "love and respect", and to demonstrate her support for the army.
"I like Sisi very much and consider him a national symbol because he saved the country from the danger posed by the former regime of deposed President Muhammad Morsi," she told the Watan news website.
At the pricier end of the market, accessories designer Nermin Nazim has created a jewellery line in Mr Sisi's honour. She told the Aswat Masriya website that she believes Mr Sisi "liberated Egypt and freed it from fascism".
Her line is called "The Second Victory" because she regards the ouster of President Morsi the Egyptian army's biggest "success" since the Israeli-Arab War of 1973.
The conflict, in which Israel eventually repelled advancing Egyptian-Syrian forces, is celebrated as a triumph in Egypt. There it is marked as a victory because of the military blow the initial attack dealt to Israel, and of Egypt's eventual recovery of the Sinai under the Israel-Egypt peace deal which the war paved the way for.
According to the Sada al-Balad news website, Ms Nazim's range is proving popular, with many brides asking for it as their wedding gift.
Cynics however wonder whether for many, Mr Sisi's popularity is an opportunity to simply cash in.
There are also suspicions that the proliferation of Sisi memorabilia is part of a concerted effort by the military's department of morale affairs.
Enterprising street vendors across Cairo can been selling fake souvenir "Sisi" ID cards for one Egyptian pound (10 US cents) a pop.
Under "profession", the cards state nothing less than "Saviour of Egypt", while his address is already given as "The Presidential Office".
Souvenir mock 200-Egyptian pound notes giving Mr Sisi head of state-style prominence can also be bought.
Mr Sisi's name is even being used to sell sandwiches: Fast food chain Amo Hosny's latest creation - The Sisy Mix - contains chicken breast and hot dog sausage chunks, slathered in the restaurant's "special sauce".
Song for Sisi
Some Egyptians have been moved to express their feelings about Mr Sisi into song.
A music video made by fitness trainer Bosy Moukhtar Bosey and posted on her Facebook page features lines sung in English such as "Sisi the Egyptians love" and "Now the whole world knows you are the Egyptians' leader".
Her collaborator in the video, Hassan About Seif, sings in Arabic: "All the people love you, all the people stands behind you."
For many, all this is getting a bit too much. The hugely popular TV satirist Bassem Youssef - himself a scathing critic of President Morsi - has warned Egyptians not to replace "religious fascism" with "nationalist fascism".
And one Twitter user summed up his alarm at the levels of adoration with: "Has Sisi become a God? What happened to you people?"
BBC Monitoring reports and analyses news from TV, radio, web and print media around the world. For more reports from BBC Monitoring, click here. You can follow BBC Monitoring on Twitter and Facebook.