Obama meets Saudi King Abdullah to smooth ties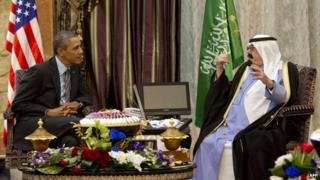 US President Barack Obama has held talks with Saudi King Abdullah, amid long-running tension over Iran's nuclear programme and Syria's conflict.
After the meeting in Riyadh, the White House hailed the "strong relationship" the US enjoyed with Saudi Arabia.
The Saudis have been frustrated by what they see as the West's failure to tackle Syria's government, and the US willingness to negotiate with Iran.
It was Mr Obama's first trip to Saudi Arabia in almost five years.
Secretary of State John Kerry and national security chief Susan Rice were among the president's entourage.
Unnamed US officials said after the two-hour meeting that that the president had made it very clear that the two countries' strategic interests remained "very much aligned".
They also said Mr Obama told the king he would not accept a "bad deal" on Iran.
Officials had earlier briefed that the two men would discuss ways to empower Syria's moderate opposition, and stop Iran from developing a nuclear arsenal.
And a White House statement said the two sides were working together on "counter-terrorism efforts to combat extremism, and supporting negotiations to achieve Middle East peace".
The Saudis released no statement after the talks, and few other details emerged.