Egypt crisis: Alexandria pair to die for rooftop killing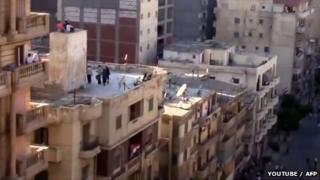 Two men have been sentenced to death for murders committed during political violence in Alexandria last year.
The charges against Mahmoud Ramadan and Abdullah el-Ahmedi, supporters of deposed President Mohammed Morsi, included throwing youths from the roof of a building.
The violence broke out after the army deposed Mr Morsi.
There have been frequent clashes between security forces and Morsi supporters in the Mediterranean city.
Sixty other people are standing trial in the same case.
The violence in Alexandria's Sidi Gaber district broke out in the days after the army deposed Mr Morsi on 3 July, following mass protests against his rule. State news agency Mena reported that 18 people were killed in the clashes.
Footage of two youths being thrown from a roof in the city was widely broadcast in Egypt at the time.
"This ruling is justice from God," said Badr Hassouna, father of Hamad Badr, in court. His son died after being thrown from the roof along with another youth.
In an interview with the BBC, Badr Hassouna said his son had been watching a pro-Morsi protest when gunfire broke out and he and others ran into the apartment building, where they were chased on to, and then thrown off, the roof by the protesters.
Hamad, who has just turned 19, died later in hospital. The Muslim Brotherhood denies any involvement in the killings.
The ruling triggered chants for and against Abdel Fattah al-Sisi, the general who deposed Mr Morsi and who is expected to become the next president, after announcing his intention to run in the forthcoming election.
The sentences drew a defiant response from the defendants, who chanted "Life is not important. Nothing is important, but our Islam is important," as some of them held aloft copies of the Koran.
In a separate case on Monday, a court in Minya sentenced 529 supporters of Mr Morsi's Muslim Brotherhood to death, drawing strong criticism from Western governments and human rights groups.