Soldiers killed by Lebanon car bomb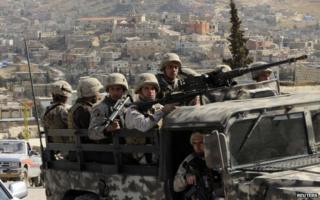 A suicide car bomber has attacked a Lebanese army checkpoint near the Syrian border, killing three soldiers, reports say.
Four more soldiers were reported wounded in the blast, on the outskirts of the town of Arsal.
Tension has been high since the Syrian army captured Yabroud, a strategic town just over the border, a fortnight ago.
Arsal is home to thousands of Syrian refugees but also Syrian rebels and their Lebanese allies.
Syrian forces now threaten key rebel supply routes from eastern Lebanon.
Fighters from Lebanese Shia movement Hezbollah, which backs Syria's President Bashar al-Assad, have a heavy presence in areas surrounding Arsal.
Lebanon's state news agency reported that an extremist Sunni group, the Ahrar al-Sunna in Baalbek Brigade, said it was behind Saturday's bombing.
The blast came hours after forces loyal to President Assad routed rebels from two Syrian villages, Flita and Ras Maara, just over the border.
Some Sunni groups have accused Lebanese soldiers of being close to Hezbollah, which has been heavily involved in fighting against rebels in western Syria.
The attack came hours after a speech by Hezbollah leader Hassan Nasrallah, in which he said he was protecting Lebanon by fighting Sunni militants in Syria.
On Thursday, the Lebanese army killed a suspected Sunni bomb-maker, Sami al-Atrash, as they raided his house in Arsal.
On Saturday, the army made further raids in the town, where they set up checkpoints earlier this month - part of a tightening of security designed to prevent Syrian rebels entering Lebanon.
The Syrian government launched an offensive in November 2013 to push rebel fighters out of the mountainous Qalamoun border area.
During the bombardment of Yabroud, much of the town's population of 40,000 fled into Lebanon, joining the tens of thousands who had already left the area.
The Syrian conflict has deepened sectarian rivalry in Lebanon, which suffered its own civil war from 1975 to 1990.
More than 2.5 million refugees are thought to have fled the conflict in Syria, with a further 6.5 million displaced inside the country.
Estimates of the death toll vary, with some activist groups claiming more than 140,000 dead. The UN stopped updating its own estimate in July 2013, when it said more than 100,000 people had been killed, because it could no longer verify the number accurately.