Yemen suicide attack on Aden army base leaves 11 dead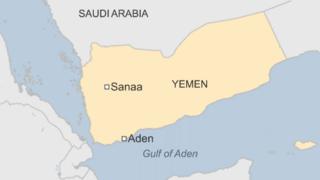 Militants have killed at least six soldiers and two civilians in a raid on an army headquarters in southern Yemen, officials say.
The army says a suicide bomber in a bomb-laden car tried to storm the main gate of the base in Aden.
Militants in a second vehicle attacked the HQ with rocket-propelled grenades and automatic weapons, they said.
Al-Qaeda-linked groups have launched a string of attacks on Yemeni army posts in the past two years.
Hospital officials said at least three assailants also died in the subsequent shootout. A 10-year-old boy was also among the civilian casualties.
The Fourth Division of the Yemeni army is based at the headquarters and is in charge of the military in southern Yemen.
"The security guarding the Fourth Division headquarters in Aden foiled a suicide attack carried out by terrorist elements of al Qaeda who had detonated a booby-trapped car at the main gate," the state news agency Saba quoted the source as saying.
Turmoil
On Tuesday, two Yemeni soldiers and two al Qaeda militants were killed in the western al-Hudaida province, when the militants tried to free four comrades seized earlier in the day, the interior ministry said.
The Aden attack appeared to be similar to one that targeted the defence ministry's headquarters in the capital Sanaa last December, in which more than 50 people were killed.
Al-Qaeda in Yemen, considered the militant group's most active branch, claimed responsibility for that attack.
Yemen, a Western-allied country that shares a border with Saudi Arabia, has been in turmoil since mass protests forced long-term leader Ali Abdullah Saleh to step down in 2012. His successor, Abd-Rabbu Mansour Hadi has struggled to restore order.