Egypt al-Jazeera case: Good journalism not safe, but vital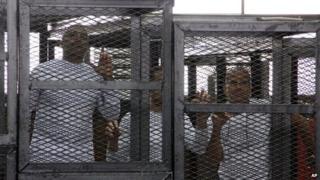 Journalism - good journalism, that is - has never been a safe profession.
Nor should it be. Putting tough questions to those in power, or finding out what is really going on, instead of what vested interests say is going on, can be dangerous.
Those who do these things know the risks they run, and carry out the job willingly.
But this does not mean that we should simply shrug when we hear of journalists being killed or imprisoned.
Murdered for truth
Journalists tend to be jokey, self-deprecating people, unwilling to take themselves or their craft too seriously. But their function is an essential one for the health of any society. A country requires the vibrant, competitive, accurate flow of news if it is to thrive.
There are too many countries where journalists are locked up or even murdered for telling inconvenient truths. Russia has long been one of them. Egypt, in the last year, seems to be developing into another.
Today, journalists at the BBC observed a minute's silence outside New Broadcasting House in protest against the imprisonment and trial in Egypt of a group of their colleagues from al-Jazeera.
They also recalled that only two days ago a couple of highly regarded journalists, a photographer and a writer from the Associated Press agency, were shot by a policeman in Afghanistan as they sat in their car near the town of Khost.
They were reporting on the election preparations there. Anja Niedringhaus, the photographer, was killed; Kathy Gannon, the writer, was badly injured.
The policeman, a unit commander, apparently acted on his own, maybe enraged by the sight of two Western women behaving in ways he was unused to. The incident was no fault of the Afghan government, which over the years has usually done what it can to protect journalists.
Warning to journalists
The al-Jazeera case is entirely different. The arrest of Peter Greste, Mohamed Fadel Fahmy and Baher Mohamed, all of them distinguished professionals with a long record of good and admirable work, is regarded by many observers in Cairo and elsewhere as being a political act, intended to put pressure on the journalists who are reporting on the bitter, contentious politics of Egypt.
Al-Jazeera has a high reputation there, and its broadcasts are watched by large numbers of people who cannot necessarily get the balanced, accurate information they need from sources closer to home.
By arresting the three men, the Egyptian government intended, it is claimed, to blacken al-Jazeera's reputation in the eyes of its audience in Egypt, and to warn other foreign journalists that they cannot operate with any safety if they attempt to report impartially on the activities and attitudes of the Muslim Brotherhood.
On 29 January the Egyptian government let it be known that 20 al-Jazeera journalists in all, including Peter Greste and the other two who have been imprisoned with him, were accused of falsifying news and damaging perceptions of Egypt abroad.
The charges arise from contacts which al-Jazeera may or may not have made with members of the Muslim Brotherhood.
Most democratic governments and organisations like the United Nations Commission for Human Rights, would regard fair reporting of the Muslim Brotherhood as being entirely proper and professional.
Free journalists around the world would agree.
The notion that reporting on a group makes you a sympathiser with it is unworthy of an established government. As Peter Greste, in his characteristically forthright way, told the judge, "The idea that I could have an association with the Muslim Brotherhood is frankly preposterous."
The authorities in Egypt must know this. You would have hoped that the judge, who refused bail to Mr Greste and his two colleagues, might have realised this too.
No doubt, somewhere down the line, the three of them will be released and the threat to the other al-Jazeera people will be lifted.
If that is the case, then this will all have been a long, unworthy charade, designed to frighten foreign and Egyptian journalists and warn them not to have anything to do with the Muslim Brotherhood in future.
I have known and admired Peter Greste for many years, since we worked in Afghanistan together. Journalists like him tend to play down any grand motives for their reporting; yet they do the job because they believe that good, accurate and fair reporting is essential to a better world.
During the minute's silence outside Broadcasting House in London, many of the BBC people showing their solidarity with Peter Greste, Mohamed Fadel Fahmy and Baher Mohamed, reflected on that.
Perceptions of Egypt have indeed been badly damaged around the world, exactly as the charge against the three journalists maintains. But the damage has not been done by al-Jazeera. It has been done by the Egyptian government itself.