Iran in fresh nuclear talks with world powers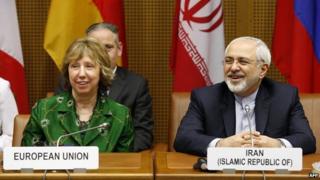 Iran has begun a new round of talks with world powers in Vienna as they seek to reach a comprehensive deal on Tehran's nuclear programme.
The international community want Iran to scale back its enrichment of uranium, which they fear could be used to make a nuclear bomb.
Iran says its nuclear work is purely peaceful and hopes to agree a deal in return for a lifting of sanctions.
An interim agreement that came into effect in January ends in July.
Iran and the six powers involved - the US, Russia, China, Britain, France and Germany - are keen to start drafting the terms of a new deal by May, but correspondents say they are still some way apart.
The signs so far have been positive, with EU foreign policy chief Catherine Ashton, who is leading the talks, hailing the last round in March as "substantive and useful".
Iranian Foreign Minister Mohammad Javad Zarif was also positive, telling Iranian media that "there are signs that an understanding is possible that respects the rights of the Iranian nation."
A senior US official involved in the talks told the AFP news agency on Friday that she was "absolutely convinced" a deal could be reached and that both sides were "looking toward beginning drafting [a deal] in May".
But "the real issue is not about whether you can write the words on paper, do the drafting. It's about the choices that Iran has to make, and some of them are very difficult."
Under the interim agreement, Iran froze certain nuclear activities for six months in exchange for a partial lifting of sanctions.
The world powers now want Iran to agree to permanently reduce the scope of its enrichment programme and to give UN inspectors more oversight.
So far, the six world powers have been united in their negotiations but Russia's annexation of the Crimean peninsula from Ukraine last month has caused tension between Moscow and the West.
Russia and Iran are said to be negotiating an oil-for-goods deal thought to be worth up to $20 billion (£12bn), which the US says would undermine the nuclear talks.