Iraqi deputy PM al-Mutlaq convoy in clash with soldiers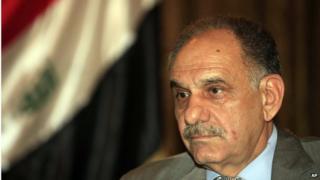 Guards protecting the convoy of the Iraqi deputy prime minister have reportedly been involved in a fire fight with soldiers.
The shoot-out came as Saleh al-Mutlaq was travelling to the Abu Ghraib area west of Baghdad.
The details of the clash are unclear. Earlier reports suggested the attackers were militants posing as soldiers.
His office also told the BBC that, contrary to earlier reports, nobody was killed in the fighting.
The incident comes three weeks before Iraqis are due to head to the polls in parliamentary elections.
Mr Mutlaq is a Sunni in the Shia-led government of Prime Minister Nouri Maliki.
Critic
He was travelling with other officials into Anbar - Iraq's largest Sunni province - to inspect flood damage after militants shut off a dam in nearby Fallujah, a statement from Mr Mutlaq's office said.
BBC Arabic was initially told the convoy was ambushed by a large group of gunmen - carrying automatic weapons - who tried to prevent it from leaving the area.
But later comments from his office said the gunmen were in fact Iraqi soldiers, and a source described the encounter as a "scuffle".
The reasons for the attack are not clear.
Mr Mutlaq has in the past been critical of the Iraqi government's policies in Anbar - where the government is fighting Sunni militants - and has called for reform of the army.
Also on Friday, a roadside bomb struck a minibus outside the northern city of Mosul, killing one civilian and wounding six.
Iraq has been enduring the worst unrest since it pulled back from the brink of civil war in 2008.
The election at the end of April will be the first since the US pulled out combat troops in 2011.
More than 9,000 candidates will compete for 328 parliamentary seats, but there will be no voting in parts of Sunni-dominated Anbar province, where security forces still battle Islamist and tribal militants for control of the provincial capital Ramadi and nearby Fallujah.