Lebanese al-Manar TV journalists killed in Syria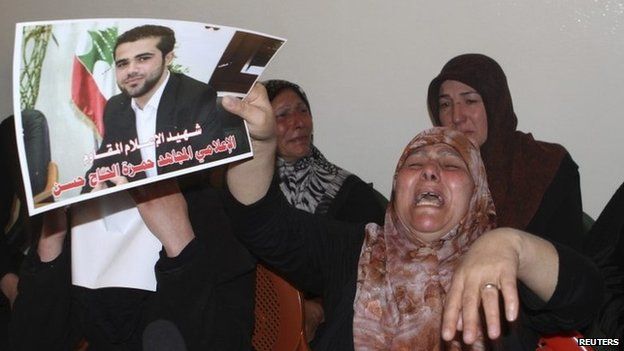 Funerals are to take place for three Lebanese journalists for the Hezbollah TV station al-Manar, who were killed in the Syrian town of Maaloula on Monday.
Reporter Hamza Hajj Hassan and cameraman Mohammed Mantash were due to be buried on Tuesday, while technician Halim Allaw's funeral is on Wednesday.
They were reporting on an operation by Syrian soldiers and Hezbollah fighters when their car came under fire.
Dozens of journalists have been killed, injured or kidnapped in Syria.
The latest kidnappings come as government forces continue operations to recapture areas occupied by the rebels, with state TV announcing the launch of a fresh ground assault by the Syrian army on the central city of Homs on Tuesday.
It said the army had "achieved key successes" in Homs and was advancing in rebel-held districts besieged for nearly two years.
The Syrian army has recaptured the towns of Sarkha, Maaloula and Rankous in recent days.
The BBC's Jim Muir in Beirut says the killing of the three al-Manar employees has been widely condemned, even by critics of Hezbollah's involvement fighting alongside government forces in Syria, such as the Lebanese President, Michel Suleiman.
"Assassinating journalists is a cowardly act," he wrote on Twitter.
The three men were killed and two others injured when their car was riddled by a hail of gunfire near Maaloula, an ancient Christian town north of the capital, Damascus, shortly after government troops drove out Islamist rebels.
Al-Manar's director said it was not clear whether the journalists were specifically targeted, but the station blamed "terrorists", a term used by the Syrian government to describe opponents of President Bashar al-Assad.
More than 30 journalists have been killed in Syria since the uprising began three years ago.
Some have apparently been deliberately targeted because they are seen as associated with one side or the other, our correspondent says.
They include a reporter for the Iranian satellite channel Press TV, who was shot dead by a sniper in Damascus in 2012.
Many others have been killed or injured by bombardments or when caught in the crossfire.
Scores of journalists and media activists - Syrians and outsiders - have also been abducted or detained by both sides in a war, in which the media, and especially the social media, have themselves become a battlefield as never before, our correspondent adds.