Middle East peace talks meeting postponed after killing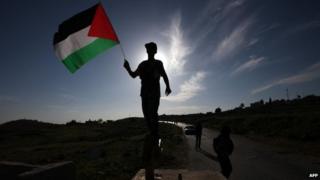 A meeting between Palestinian and Israeli peace negotiators has been postponed in the wake of a killing of an Israeli in the West Bank.
A spokesman for Palestinian Authority President Mahmoud Abbas said it had been rescheduled for Thursday.
Israeli officials declined to give a reason, but the shooting of an off-duty policeman on Monday has caused outrage.
The US has been struggling to persuade both sides to agree extend their direct talks beyond a 29 April deadline.
The negotiations, which resumed last July after a three-year hiatus, appeared on the verge of collapse earlier this month when both sides took what Washington called "unhelpful steps".
The Palestinians submitted applications to join 15 UN treaties and conventions, while Israel refused to release a fourth group of 26 long-term Palestinian prisoners and re-issued tenders for more than 700 new homes at a Jewish settlement in occupied East Jerusalem.
Israel has since said it will also deduct debt payments from tax revenues collected on behalf of the Palestinian Authority (PA) - which governs parts of the West Bank not under Israeli control - and limit its access to deposits in Israeli banks.
'Ongoing incitement'
US Secretary of State John Kerry and US special envoy Martin Indyk have been trying to persuade both sides to agree to a "framework" accord on core issues that would allow the negotiations to continue.
"The parties are working right now on an agreement to extend the negotiations, and that means extending the negotiations past 29 April," state department spokeswoman Jen Psaki said on Tuesday evening.
Ms Psaki explained that Israeli and Palestinian negotiators were scheduled to discuss "a range of issues" on Wednesday evening, but by early afternoon it emerged that the meeting had been delayed at the request of the US, reportedly to allow for Mr Indyk to arrive in the region.
"The meeting that was planned for tonight between Israeli and Palestinian negotiating teams will not be taking place. It's being postponed," an Israeli official told the AFP news agency.
The official declined to explain the decision, but said Monday's killing of Baruch Mizrahi, a high-ranking officer in Israeli police intelligence, had been the "direct result of ongoing incitement and glorification of terrorism that we see in the official Palestinian media and education system".
On Tuesday, Israeli Prime Minister Benjamin Netanyahu blamed PA leaders who he said "continue to peddle hate-filled material". He also complained that they had failed to condemn the attack.
Palestinian Religious Affairs Minister Mahmoud al-Habash did so on Wednesday, telling Israeli reporters in Ramallah that he felt "the pain of the families". He added that he expected the Israeli government to condemn the killing of Palestinians, but that "this doesn't happen".
Israeli security forces are still hunting for the gunman who opened fire on Mr Mizrahi's car outside Hebron. His wife and child were also wounded.
Also on Wednesday, clashes erupted between Palestinian protesters and Israeli police at a holy site in Jerusalem, known to Jews as the Temple Mount and Muslims as the Haram al-Sharif (Noble Sanctuary).
Reports say the violence broke out after the site was opened to visitors in the morning. The protesters began throwing stones, and the police officers responded by firing stun grenades and rubber bullets. The AFP news agency reported that dozens of protesters were hurt.