Two killed in Bahrain car explosion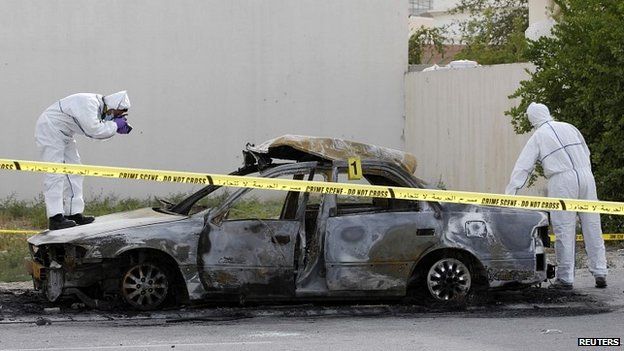 Two people have been killed and a third severely wounded when the car they were travelling in exploded in Bahrain.
The Interior Ministry said there were signs the car was carrying explosives.
It is not clear whether the victims were deliberately targeted or whether they were planning to carry out an attack themselves.
Bahrain has been hit by several bombings in recent weeks as clashes between police and anti-government protesters continue.
An uprising against the ruling Sunni dynasty in the Shia-majority kingdom began in 2011.
The explosion on Saturday happened in a Shia village near Bahrain's capital, Manama.
"Initial inspections uncovered two burnt bodies and a third with burn wounds was taken to hospital," the ministry said.
Police found traces of explosives inside the car, it added, but gave no further details.
Witnesses said they heard a loud bang shortly before the car was engulfed by flames.
Bahrain remains deeply divided three years after the Shia uprising, with persistent clashes, scores of protesters jailed on "terror" charges and reconciliation talks deadlocked.
The International Federation for Human Rights says at least 89 people have been killed in the clashes since February 2011.
Sunni Muslims are a minority in the country but the al-Khalifa dynasty have ruled over the Shia Muslim majority for over 200 years.
The small island country is a key US ally in the Gulf and hosts the US Navy's 5th Fleet.
Bahrain is also closely allied with Saudi Arabia, which in 2011 sent troops into the country to help the government quell the uprising.