UN envoy and Israel in Easter ritual access row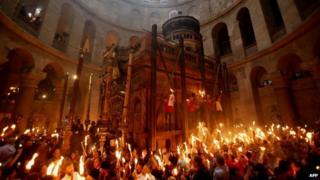 The UN's Middle East peace envoy has criticised Israeli authorities for allegedly preventing him from reaching an Easter ritual in Jerusalem.
Robert Serry said the delay was "unacceptable behaviour" and called on all parties to "respect the right of religious freedom".
Israel said it was a "micro-incident" and questioned Mr Serry's judgement.
Thousands of Christian pilgrims took part in the Holy Fire ceremony at the Church of the Holy Sepulchre.
Mr Serry said that he was held up at a checkpoint along with other diplomats and dozens of Palestinians trying to make their way to the ceremony.
He told Reuters news agency that he might have been trampled had he not eventually been allowed to pass.
"It became really dangerous because there was a big crowd and I was pushed against a metal fence the police put up there, the crowd tried to push really hard," he said.
"This wasn't something you associate with a peaceful procession for Easter." he said.
An Israeli foreign ministry spokesman said Mr Serry had displayed "a serious problem of judgment" and that any attempts to limit access were carried out for safety reasons.
Spokesman Yigal Palmor praised "the dedicated work of the Jerusalem police".
A foreign ministry statement added: "Had any harm come to the pilgrims due to uncontrolled crowd movements, Mr Serry would have been prompt to cast responsibility on the same police which he now condemns for doing its job properly".
Ancient tradition
The Holy Fire is considered a miracle occurring every year on Holy Saturday, the day before Easter Sunday.
Worshippers say the flame appears from Jesus' tomb inside the church to show he has not forgotten his followers.
The ancient church is believed to be built on the site of his crucifixion, burial and resurrection.
In keeping with tradition, the church was unlocked by a Muslim family which has held the keys for centuries.
Meanwhile in Rome, Pope Francis called on Catholics to spread the message of God "to the very ends of the Earth".
He called on Catholics to recover "the fire which Jesus has kindled in the world and to bring that fire to all people".
He was addressing followers at an Easter vigil Mass in St Peter's Basilica on Saturday.
The Catholic Church's main Easter Mass will be celebrated on Easter Sunday, the holiest day in the Church's calendar.