Iran President Rouhani urges equal rights for women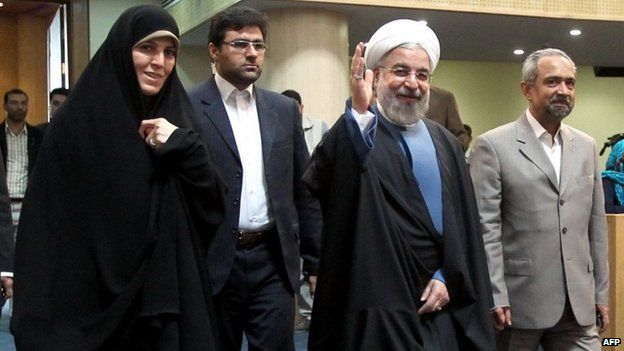 Iranian President Hassan Rouhani has urged equal opportunities and rights for men and women, and condemned sexual discrimination.
In a speech marking Women's Day, Mr Rouhani criticised "those who consider women's presence society as a threat" and said Iran still had "a long way to go" to ensure gender equality.
Mr Rouhani, a religious moderate, was elected to office in June 2013.
Foreign activist groups argue that Iran's laws discriminate against women.
Speaking on Sunday at the National Forum on Women Shaping Economy and Culture in Tehran, Mr Rouhani said: "We will not accept the culture of sexual discrimination."
"Women must enjoy equal opportunity, equal protection and equal social rights," he said in comments that were broadcast live on television.
"According to the Islamic rules, man is not the stronger sex and woman is not the weaker one," he said.
However, Supreme Leader Ayatollah Ali Khamenei, the highest authority in Iran, said in comments on Saturday that gender equality was "one of the biggest mistakes of the Western thought".
"Justice is a right. But equality is sometimes right and sometimes wrong," he said, according to his personal website.
He added that he did not oppose women's employment, but that it should not conflict with "the main issue", which was women's role in the "family environment and household".
The London-based human rights group Amnesty International said in its 2013 report on Iran that women there "faced discrimination in law and practice in relation to marriage and divorce, inheritance, child custody, nationality and international travel".
In May 2013 a constitutional body in Iran ruled that women could not run in presidential elections. However, women have served as lawmakers in parliament.
In 2012 several Iranian universities introduced rules banning female students from nearly 80 degree courses, drawing criticism from campaigners.