Iran replaces prisons chief after Evin incident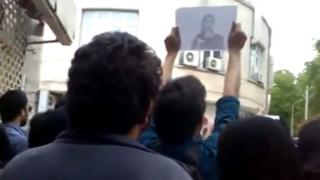 The head of Iran's prison service has been replaced following allegations that political prisoners were beaten by guards at Tehran's Evin jail last week.
Gholamhossein Esmaili has been transferred to a similarly high-ranking position as prosecutor and head of the appeals court in the capital.
However, analysts say many consider the move to be a quiet dismissal.
Mr Esmaili denied claims by relatives that 30 prisoners were injured, four of them seriously, during an inspection.
But several MPs called on the justice minister to investigate the incident.
And on Tuesday members of the prisoners' families staged a protest outside President Hassan Rouhani's office in Tehran, after which they were reportedly invited in for talks with officials.
'Broken ribs'
BBC Persian's Amir Azimi says the transfer of Mr Esmaili is unusual, but that the alleged beatings have triggered widespread criticism.
The opposition website Kalame said the prisoners were beaten when a clash erupted during a snap inspection of Ward 350 by the Evin prison authorities on Thursday. Some 100 guards were reportedly involved.
Relatives interviewed by the BBC described the actions of the guards as very harsh and said some inmates required treatment for injuries including broken ribs.
However, Justice Minister Mostafa Pourmohammadi insisted that it was "just a routine inspection" that met with some "resistance". "Only one or two prisoners suffered minor injuries", he said.
Human rights activists have accused the Iranian authorities of regularly subjecting prisoners, especially those convicted on politically-motivated charges, to abuse and of depriving them of medical treatment.
Seven political prisoners are thought to have died as a result of torture, ill-treatment, or medical neglect since 2009, when millions protested after the disputed re-election of former President Mahmoud Ahmadinejad.