Israel to suspend talks over Palestinian unity deal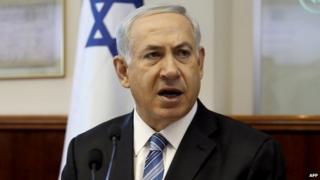 Israel has suspended its peace talks with the Palestinians in response to a unity deal between Hamas and Fatah.
The decision came after Prime Minister Benjamin Netanyahu chaired a six-hour meeting of Israel's security cabinet.
The Palestinian factions announced the reconciliation deal on Wednesday, saying they would attempt to form a unity government in the coming weeks.
Mr Netanyahu told the BBC the Palestinian leader must abandon the deal if he wanted peace with Israel.
Mahmoud Abbas has "taken a giant leap backwards", the Israeli leader told BBC Middle East editor Jeremy Bowen.
The direct negotiations were already close to collapse after both sides took what the US called "unhelpful steps" earlier this month.
Since then, Washington has been trying to keep the talks going beyond Tuesday, the deadline for a final agreement set when they resumed last July after a three-year hiatus.
'Additional measures'
The two Palestinian factions have been at odds since Hamas, which won parliamentary elections in 2006, ousted forces loyal to Palestinian Authority President Mahmoud Abbas and Fatah in the Gaza Strip during clashes in 2007 and set up a rival government.
In a statement released after Thursday's security cabinet meeting, Mr Netanyahu said his government would "not negotiate with a Palestinian government backed by Hamas, a terror organisation that calls for the destruction of Israel".
He said the deal was "a direct continuation of the Palestinian refusal to advance the negotiations".
President Abbas had "formed an alliance with an organisation whose charter calls for Muslims to fight the Jews and kill them", he added.
"Those who choose the terrorism of Hamas do not want peace."
In the statement, Mr Netanyahu said Israel would take "a number of additional measures" in response to the Palestinians' "unilateral moves", but provided no details.
Israel has already said it will deduct debt payments from tax revenues collected on behalf of the PA - which governs parts of the West Bank not under Israeli control - and limit its access to deposits in Israeli banks.
That move came after Mr Abbas submitted applications to join 15 UN treaties and conventions because Israel was refusing to release a fourth group of 26 long-term Palestinian prisoners. Israel had made such a release contingent on progress in the peace talks.
Earlier, a senior US official said the White House would be forced to reconsider its assistance to the Palestinians if Hamas and Fatah formed a unity government, seven years after their violent split.
"Any Palestinian government must unambiguously and explicitly commit to non-violence, recognition of the state of Israel, and acceptance of previous agreements and obligations between the parties," the official told the Reuters news agency.
The US, along with Israel and the EU, considers Hamas a terrorist group.
Palestinian officials said reconciliation was an internal matter and that uniting the Palestinians would reinforce peace.
In a statement, President Abbas said there was "no incompatibility between reconciliation and the talks" and that they were committed to peace on the basis of a two-state solution.
The factions said they planned to form an interim unity government - headed by Mr Abbas - within five weeks and to hold parliamentary elections within six months.
"This is the good news we tell our people," Ismail Haniya, prime minister of the Hamas-led government in Gaza, said. "The era of division is over."