Palestinians' Mahmoud Abbas calls Holocaust 'heinous crime'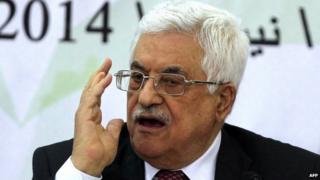 Palestinian President Mahmoud Abbas has called the Holocaust "the most heinous crime" in modern history.
The remarks were released ahead of Israel's Holocaust memorial day.
Israeli Prime Minister Benjamin Netanyahu said Mr Abbas "can't say the Holocaust is terrible while... embracing those who seek the destruction of the Jewish people".
Israel is opposed to a recent unity deal between Mr Abbas's Fatah group and its Islamist rival Hamas.
Hamas officials have made statements denying the Holocaust, and in 2009 objected to a UN proposal to teach children about it in UN-run schools in Gaza.
About six million Jews were murdered in the Nazi genocide during World War II.
In his statement, Mr Abbas "expressed his sympathy with the families of the victims and many other innocent people who were killed by the Nazis".
"The Holocaust is a reflection of the concept of ethnic discrimination and racism which the Palestinians strongly reject and act against," he went on.
He also urged the Israeli government to use "the incredibly sad commemoration of Holocaust day" to take the chance to find a "just and comprehensive" peace with his people, based on a two-state solution.
Talks break down
Mr Abbas's comments were the strongest that he has made publicly on the Holocaust and appear to be an attempt to reach out to a mistrustful Israeli public, the BBC's Yolande Knell reports from Jerusalem.
On Thursday Israel's security cabinet decided to suspend the latest round of stalling peace talks after Mr Abbas's Fatah group and its Islamist rival Hamas agreed to set up a new unity government.
Israel - along with the US and the EU - views Hamas as a terrorist organisation.
Mr Netanyahu told CNN on Sunday that Israel "will not negotiate with a government backed by Hamas".
However, Mr Abbas has said he is still interested in extending peace negotiations.
Mr Abbas has said the new Palestinian government - which he will head - will recognise Israel, renounce violence and stick to past agreements.
However, a Hamas spokesman has said the group "will not give any cover for any negotiations with the enemy".