Iraq suicide bomb at Kurdish political rally kills 30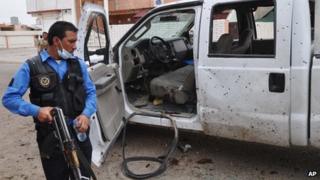 A suicide bombing at a rally in north-eastern Iraq has killed 30 people, security officials say.
The attack took place at a political gathering in the town of Khanaqin, which has a large Kurdish population.
It was the deadliest bombing among a wave of attacks to hit Iraq on Monday.
Iraqis are voting in the country's first parliamentary election since the withdrawal of US troops almost three years ago, but it comes amid the worst unrest since 2008.
People at the rally had gathered to watch television footage of Iraqi President Jalal Talabani, a Kurd, casting his vote in Germany.
Mr Talabani suffered a stroke in December 2012 and has been receiving treatment in Germany.
"The attacker snuck among the crowds near the Patriotic Union of Kurdistan's [Mr Talabani's party] headquarters and blew himself up, causing a tragic massacre," a police officer told Reuters news agency.
At least 50 others were injured in the blast.
Polling stations targeted
The attack was one of several attacks across Iraq on Monday. A total of at least 50 people were killed.
A bomb at a polling station in Baghdad's Mansour district killed at least three security officers.
Suicide bombers also launched attacks near voting centres in the Kirkuk and Tuz Khurmatu in the north.
Meanwhile, journalists in the northern city of Mosul who were covering the vote were injured after their security convoy was struck by a bomb.
Many of the attackers were disguised in army and police uniforms, Reuters said.
On Friday, at least 31 people were killed as a series of blasts targeted a Shia election rally in Baghdad. The Islamic State in Iraq and the Levant - an al-Qaeda offshoot also known as ISIL - said it had carried out the attacks.
Soldiers, police and advance voters were casting their ballots on Monday. The majority of Iraq's electorate will vote on Wednesday.
More than 9,000 candidates are competing for 328 parliamentary seats. There will be no voting in parts of Sunni-dominated Anbar province, where security forces still battle Islamist and tribal militants for control of the provincial capital Ramadi and nearby Falluja.