Yemen army launches major al-Qaeda offensive in south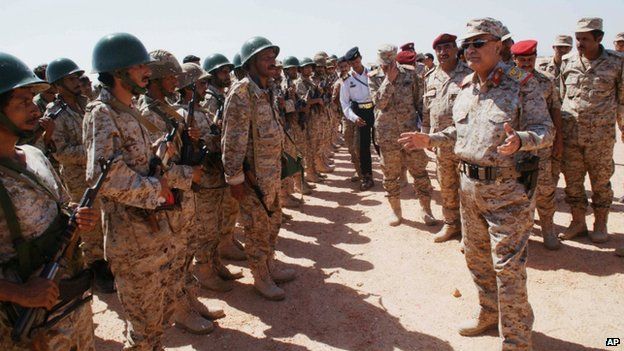 The Yemeni army has launched a major offensive against al-Qaeda militants in the south, security officials say.
Military units fought suspected al-Qaeda militants in the country's Abyan and Shabwa provinces.
One report said many soldiers were killed in a suspected ambush during the offensive.
Al-Qaeda in the Arab Peninsula (AQAP) is considered to be the most dangerous branch of al-Qaeda in the world, and is based in Yemen.
Yemeni armed forces, with tribal leaders and locals, launched the "extensive" campaign in parts of Abyan and Shabwa on Tuesday, state-run news agency Saba reported.
Areas targeted included Abyan's al-Mahfad district, and Azzan in Shabwa.
Eight suspected AQAP militants and three soldiers were killed in the offensive, security sources told the Associated Press news agency.
However, another report said 15 soldiers were killed in Shabwa province in a suspected ambush by AQAP fighters.
Earlier this month, as many as 55 militants died in a government air campaign over Shabwa, Abyan and the nearby province of Bayda, Yemeni officials said.