IPAF award: Frankenstein in Baghdad wins Arab fiction prize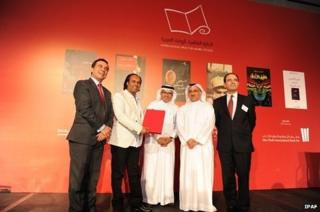 A modern-day Frankenstein novel set in Baghdad has won the Arab world's top prize for fiction.
Ahmed Saadawi's fantasy Frankenstein in Baghdad was the seventh winner of the International Prize for Arabic Fiction (IPAF).
Judges said the novel was "expertly told" and a "significant addition to contemporary Arabic fiction".
The winning author receives $50,000 and a guaranteed translation into English, meaning a big increase in readership.
The novel tells the story of Hadi al-Attag, a man who stitches together body parts of those killed in explosions in the Iraqi capital.
The monster then comes to life and begins a campaign of revenge against those responsible for the deaths.
'Helplessness'
Yasir Suleiman, chairman of IPAF's board, said that the characters were "both earthy and real but also transcend reality".
"It raises questions about an oppressive legacy from which neither individuals nor society can escape," Mr Suleiman said.
One review said the book reflected "the general feeling of helplessness toward violence witnessed in Iraq".
The publication of the novel comes amid increasing violence in Iraq and the wider region.
The original Frankenstein was written by English novelist Mary Shelley in 1818.
There were a total of 156 entries from 18 countries across the Arab world for the award.
The prestigious award is unofficially known as the Arabic Booker prize, says the BBC's arts correspondent Vincent Dowd.
The book is the Iraqi author's third novel, and was chosen from a shortlist of six other works.
The other five finalists will each receive $10,000.