Iraq vote count under way in poll hailed by US and UN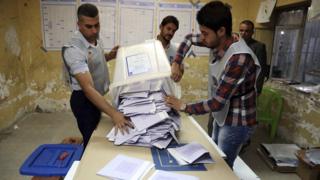 Vote counting is under way in Iraq after the country's first parliamentary poll since US troops withdrew in 2011.
The UN and US have hailed the running of the poll, held amid a heavy security presence with hundreds of thousands of soldiers deployed to polling stations.
Prime Minister Nouri Maliki, who is seeking a third term, declared that his victory was "certain".
The election comes at a time of heightened sectarian tensions and spiralling violence in the country.
Dozens of attacks on election day left 14 people dead, according to officials.
This figure was lower than in the two preceding days, thanks to a security clampdown during the vote - including a vehicle ban in Baghdad.
Correspondents say that, after a week in which 160 people died, the authorities will probably consider the vote a success, despite the deaths.
Official results are not expected until later in May.
'Powerful rebuke'
In a statement on Wednesday, US Secretary of State John Kerry praised the "millions of Iraqis" who "courageously voted" in the polls.
He said the vote was a "powerful rebuke to the violent extremists who have tried to thwart democratic progress and sow discord in Iraq and throughout the region".
The UN Security Council commended Iraqis "for demonstrating their commitment to a peaceful, inclusive and democratic political process" and urged Iraqi leaders to form a government "as soon as possible".
Prime Minister Maliki told reporters he was confident of his victory and declared the elections a "big success", after casting his vote in Baghdad on Wednesday.
His State of Law alliance - a mainly Shia bloc - is seen as the front-runner in the polls with analysts saying the strongest challenge is likely to come from rival Shia factions.
Mr Maliki is expected to be a pivotal figure in the coalition-building process which will follow the election.
It took nearly 10 months to assemble a government after the last election in 2010, and a similar period of negotiation is also expected on this occasion.
Turnout
Iraq's Independent High Electoral Commission (IHEC) said voting had taken place in only 70% of Anbar on Wednesday, with no polling stations open in the insurgent-held city of Falluja.
Voting was also limited in the provincial capital, Ramadi, where troops have been waging street battles for months. Provisional estimates put turnout at about 60% in those areas that voted.
Twenty-two million people were eligible to vote in the elections, with 276 political entities and 9,000 candidates contesting the 328 seats in the Council of Representatives.
There were more than 50 attacks on polling stations and people on their way to vote in northern and western Iraq, AFP news agency reported.
Last year, the death toll in Iraq was the highest since the peak of the sectarian insurgency in 2006 and 2007.
About 2,000 people have been killed in the first three months of this year, during which Sunni tribesmen and militants linked to the jihadist Islamic State in Iraq and the Levant (ISIS) have taken control of parts of Anbar province.