Yemen 'kills 37 al-Qaeda militants' in south offensive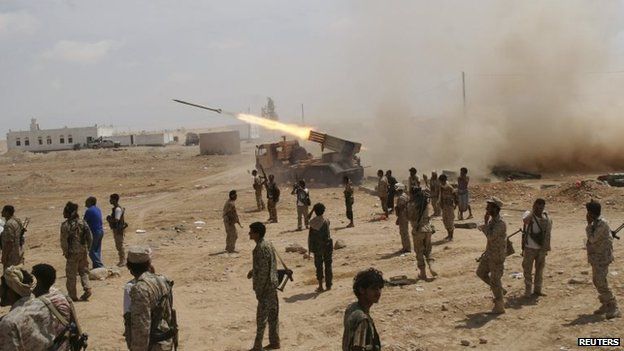 Yemeni security forces have killed 37 suspected al-Qaeda militants in an offensive in the country's south, the defence ministry says.
Troops attacked suspected militant hideouts in the town of Maifaa, in Shabwa province, the army said.
Several soldiers have also been reported killed.
Al-Qaeda in the Arab Peninsula (AQAP) overran much of southern Yemen in 2011. It is considered to be the most dangerous branch of al-Qaeda.
Fighters moved to the area when their training bases were shut down in Afghanistan and Pakistan.
Last week, the army said it had launched a major campaign in the southern provinces of Shabwa and Abyan.
Shortly after the deaths of militants were reported on Sunday, an unnamed military source said six soldiers had died when a suicide bomber attacked a military outpost in Shabwa, Reuters news agency said.
The day before, an al-Qaeda leader and four fighters were killed in an army campaign in neighbouring Abyan province, reports said.