Syria's presidential poll stifles hopes for change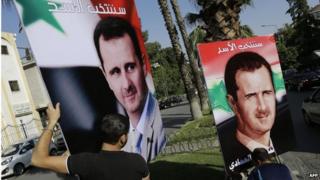 In Syria, campaigning for next month's presidential election is under way. It is the first multi-candidate contest for the post, but critics have derided the process as a sham - and for President Bashar al-Assad's opponents it reinforces the sense that hope is lost.
"This is how the lions look," says one of the many signs around Damascus. It displays a picture of President Assad, in a military outfit, sporting Ray-Ban sunglasses.
As the presidential polls approach, streets are filled with hoardings promoting the election.
"Your voice = the nation. Your voice = the president," reads another advertisement.
What the campaign posters have in common is that they are all championing one candidate - President Assad. "We are all Bashar al-Assad," says one. "We love you, Assad," says another.
Syrian flags with the president's picture on it decorate the streets, shop shutters are painted in national colours and on every corner there are signs saying "Bashar al-Assad is the leader".
Black Hummer cars with windows painted in the national colours tour the capital, blaring out pro-Assad songs from loud speakers.
Rallies calling for him to be president again are held in the city centre.
Damascus has been targeted by rounds of mortars that have hit civilian areas. But none fell when the rallies took place, prompting residents to wonder who is behind the daily attacks.
Sham democracy
For the first time in decades, the new presidential term is not being called through a referendum with just one member of the Assad family on the ballot paper.
Rather the polls on 3 June 2014 will be contested by three candidates approved by the constitutional court out of 24 hopefuls who registered.
President Assad is one of the final three.
Syria announced in April that presidential elections will be held and that candidates who can secure the support of at least 35 MPs, hold solely Syrian nationality and have continuously resided in the country for the past 10 years, would be eligible to run.
Using these criteria, Damascus ruled out the participation of any opposition figures and the chance of dissent.
Most of the three million Syrians abroad who have fled the war are registered as refugees and will not be able to have their say, and 6.5 million internally displaced citizens fear they will be forced to vote.
The two candidates who will face Bashar Assad are:
Maher Abdul Hafez Hajjar, 43, an ex-Communist Party activist and MP who is said to be from a prominent religious family in the northern city of Aleppo
Hassan Abdullah al-Nouri, 54, a Damascus native and former lawmaker who previously headed the nation's chamber of industry.
Yet neither will be able to say "Vote for me, I can do better than Assad", as campaigning candidates can in real democracies.
Peace paralysis
Western countries have criticised the elections and they are being seen as signalling an end to diplomacy.
UN-Arab League peace envoy Lakhdar Brahimi, who is leaving office at the end of the month, has said that if the elections took place, they could jeopardise peace talks. His comments angered Damascus, which viewed them as intervention in internal affairs.
But for now, the Geneva peace initiative to end the war seems to be as much at stalemate as the fighting on the ground, with neither side winning or losing.
Allies of Syria's opposition are facing difficulties over what to do next. The war is continuing and the increasing number of refugees is placing a huge burden on host countries.
Despite the failure of the international peace conference earlier this year, so-called "Track II" efforts exploring alternative solutions have been taking place.
Some have suggested calling on President Assad to stay in power for another two years rather than holding elections that will keep him in office for another seven years. However, these efforts seem paralysed now.
Everyone you talk to in Damascus knows this is just a show and that President Assad will be the winner.
Assad loyalists want him to stay - some because they are enjoying the benefits of power, others because they fear the chaos if he goes and what radical Islamists might do.
War-weary
But the president's opponents are in a very difficult position. Those in areas under rebel control in the north are under daily bombardment from government forces and voting will not even be held there.
Barrel bombs are regularly dropped by the air force over Aleppo, killing civilians, including many children.
In the south in areas where rebel and government forces vie for control, the government has pursued a "starve or surrender" policy that seems to be working.
Families are tired and want an end to starvation, and rebels are forced to surrender or withdraw.
Meanwhile, Mr Assad's opponents who live in areas under his forces' control fear for their lives, keeping their heads down and being unable to express themselves publicly.
They are concerned about the election process and whether they will have to show proof that they voted.
'We want to run out of the country during the election period," said one resident of Damascus, "but what will happen to the thousands who can't leave and don't wish to vote?" he asked.
Another opposition supporter in the city fears that following the elections, the government will not tolerate even those who were in the middle. A "with us or against us" policy will prevail, he told me.
Those who demanded freedom in Syria are facing the prospect of failure. Their call for change and democracy has turned into a call for survival, and for many there is neither bread nor freedom.